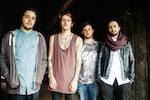 Cardiff melodic/post-hardcore band Here Lies The Enemy have premiered their new single – 'Pride'.
The single features guest vocals from Michael McGough, formerly of The Elijah and now Being As An Ocean. A lyric video for 'Pride' can be viewed after the jump, and the single is available as a free download on Bandcamp.
Here Lies The Enemy's debut album is set to be released later this year.