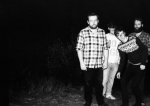 Alcopop! Records have announced the signing of Her Parents.
The band includes former members of Dananananaykroyd, Stairs to Korea and Internet Forever, and will release their new album 'Happy Birthday' on 13th May.
A stream and free download of a new song called 'Why Don't You Just Fuck Off' can be found by clicking read more.