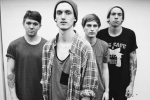 UK hardcore band Heights have decided to separate after nearly five years. The band's final shows will be announced in due course.
The band releases the following statement:
"Heights is dead, no really this time.
The end of the band that has been your entire lives for nearing five years was always something of mystery to us, I guess it's easy to believe it would take something dramatic or eventful to derail so much work and effort, to stop something that had become larger than any of us ever truly believed.
So the reality took us all by surprise, towards the end of last year a couple of us just didn't feel the same passion that we always relied upon. Without that, we all knew it was time. In fact, we're closer as friends than we've ever been, and we plan to spend the last few months and shows enjoying the end to what will forever be something we are all proud of.
This band has literally taken us around the world, we've played shows in Australia, Russia and more countries in Europe than Dean can even name. In each of those countries we've had the privilege of meeting genuinely amazing people, fans of our band, where for 30 minutes we had a connection that made everything worth it.
For those people, more so than anything else we thank you – that's the only constant that has kept this going for so long, and the memories of the shows we have played will always be with us.
We will be announcing our last shows soon, and we'll do it all one last time."