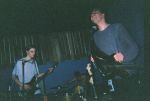 Durham screamo band Healing Powers are streaming new song 'He Did Not Live to See the Realisation of His Dream' on their bandcamp from their upcoming self-titled EP.
The EP, produced by Bob Cooper, will be released on 7" vinyl this Summer on Get Into It Records and Wolf Town DIY.
This is the third song to be released from the record, along with the previously released opener 'Friendship Bracelet' and 'Weirdos at Work'.
Click read more to listen to the new song.

<a href="http://healingpowers.bandcamp.com/album/7" data-mce-href="http://healingpowers.bandcamp.com/album/7">7" by healing powers</a>