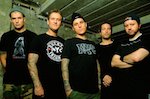 Due to a miscommunication error, H2O will not be playing this years Slam Dunk Festival.
The band had been asked to play the festival but already have other commitments in place.
The band made the following comment:
"Hi Everybody,
We just want to make it clear that we aren't playing Slam Dunk in the UK. We were asked to do it but due to a preexisting commitment (see below), we couldn't make it happen. I'm not sure how we ended up on the poster but we want to be clear that we aren't on the shows and never were. However, that being said, it looks like an incredible bill so there is still plenty to get excited about and perhaps we can be a part of it next year."
Whilst Slam Dunk booker Ben Ray said the following:
"We are sad to say we have just been informed that H2O will not be appearing at this year's Slam Dunk Festival. Although we had them confirmed by their UK representative, apparently there was miscommunication with their US people which resulted in a double booking! This is neither the fault of the band or festival and we're sure we will have them play again on another event. This is this first time this has happened in 9 years of the festival so it has come as a bit of a shock. Luckily we have found this out today before any tickets have been sold and I apologise for any inconvenience caused.
Ben Ray."
Tickets for Slam Dunk Festival are on sale now.
May
Saturday 24th Slam Dunk Festival North: Leeds University
Sunday 25th Slam Dunk Festival South: The Forum Hertfordshire
Bank Holiday Monday 26th Slam Dunk Festival Midlands: Wolverhampton Civic