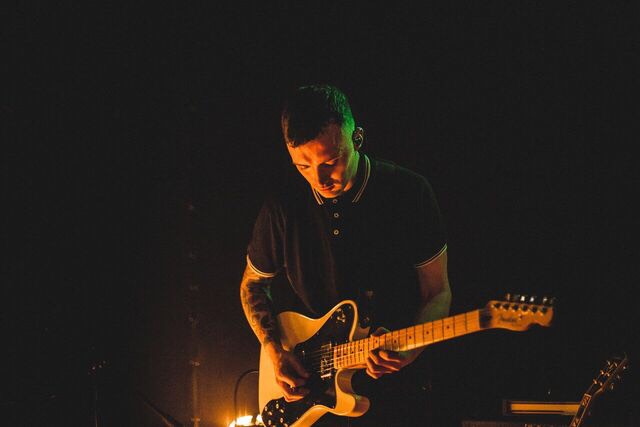 On their debut release, 'Where It All Began', Coldbones provide a different take on instrumental post-rock. In addition to the usual laid back tropes that the genre is known for, the South East coast group incorporate elements of metal, shoegaze and prog to create engaging soundscapes. From the lively, stirring swells on the titular track to the harmonious ascension on 'Moments', Coldbones cover plenty of ground.
For guitarist Jordan Gilbert, it has allowed him to experiment with style and tone. While his admiration for some of rock and metal's greats was installed into him from an early age. "My interest in guitar was built up over a long time after seeing some of the greats," Jordan tells us. "I'm super lucky to have been taken to shows from a young and impressionable age. My parents are heavily into classic rock and metal bands. They took me to see the likes of Iron Maiden, Metallica, Judas Priest and many more."
From seeing names such as Kirk Hammett, Dave Murray, Adrian Smith, Tommy Iommi, and Glenn Tipton, Jordan started playing guitar at the age of 13 having received a Ibanez Gio for Christmas. Throughout his teenage years, he would play in various alt rock and metalcore bands, the latter being where Gilbert's early influences would come from.
"Throughout school and college, I was influenced by guitarists whose style would serve and compliment the other members in the band," Jordan explains. "I'd say Adam D (Killswitch Engage) Nick Hippa (As I Lay Dying) and ER White (Emarosa) were my idols."
Over time, Gilbert's style has expanded beyond the thrash riffs of his teenager years. He credits his time at University studying Commercial Music for introducing him to different techniques. "I learnt to read music and took to learning chord shapes, key signatures and scales seriously. I was exposed to so many different styles: jazz, blues, Bossa Nova and funk. It was the first time I'd listened to solo guitar players and took my craft more seriously."
Although Jordan didn't admire iconic soloists such as Joe Satriani, Steve Vai and Eric Clapton as a teenage, his exposure to jazz and blues would lead to him studying the style and techniques of Pat Metheny, Eric Johnson and Robben Ford for hours.
"Playing Jazz at uni made me really think about the notes (chord tones) I choose to play and how they fit with the harmony of the song. However, years of riffing and thrashing out classic rock and metalcore has made me always want to find opportunities to build fine and delicate note choices into a huge crescendo of a riff."
As evident on 'Where It All Began', Gilbert's love for metal and jazz is certainly apparent. The calm, intimate build on 'To Whatever End' crescendos to a stringent solo with an energetic finale is an example of this. "I'm definitely a player who thinks carefully about melodies and note choices holding back when I need to and I'm more than willing to have the other members give me ideas," explains Jordan. "At the same time, I try to keep things interesting thinking about dynamics, pitch and maybe a cool tapping part here and there."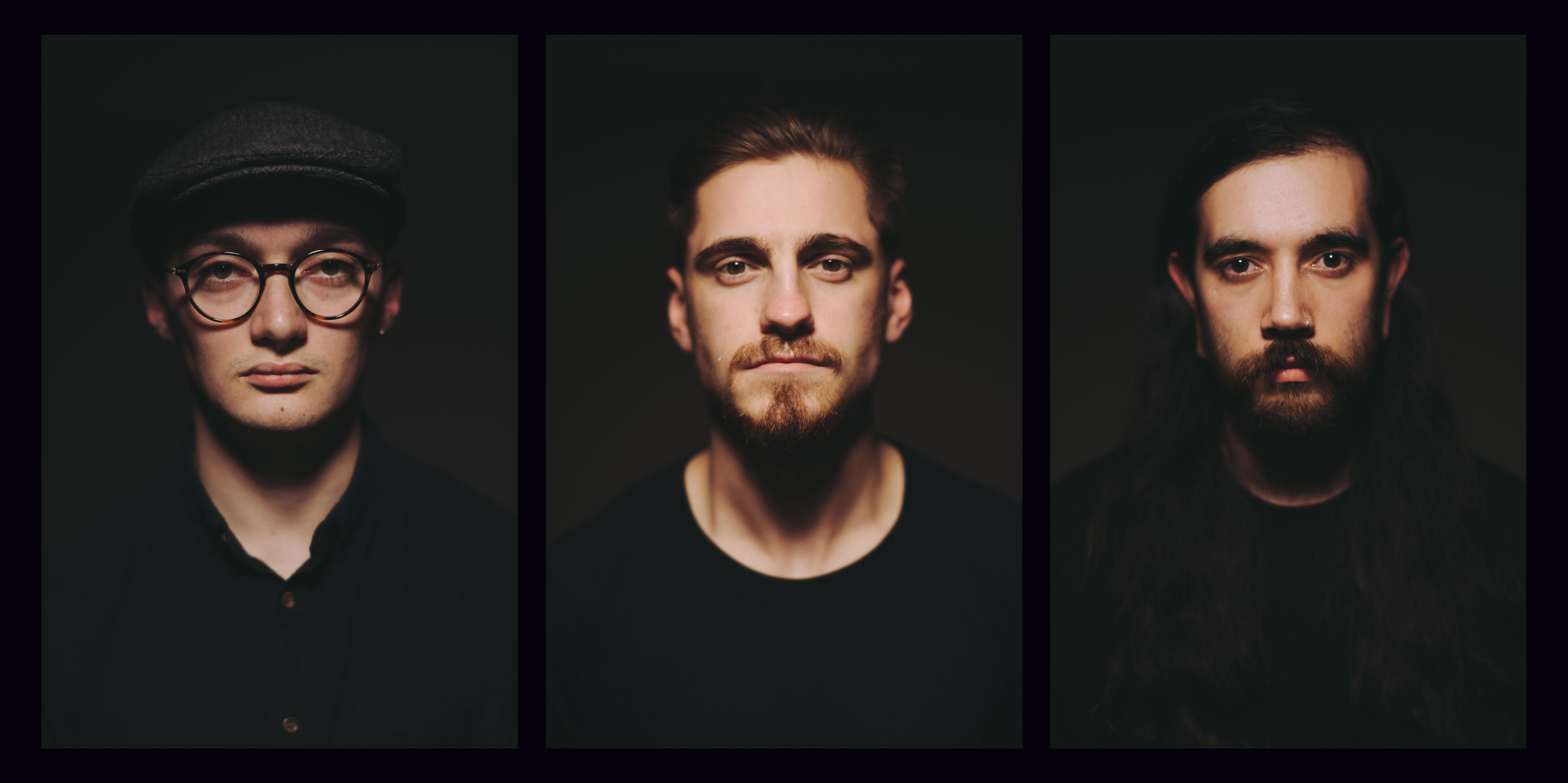 With Coldbones being an instrumental, post-rock band, Gilbert's role as the main guitarist is an obvious key factor yet it has allowed him to experiment more. "I definitely experiment with lots of different effects that I never would've used before had it not been for this band. Reverb and delay are obviously a given. But with our hard edge, I've been playing around with stacking overdrives, using fuzzes and modulation."
From hearing 'Where It All Began', the style and tones Gilbert produces is vast. He credits the Strymon Timeline Delay and Big Sky Reverb pedals as a vital ingredient as they give "endless options for ambient reverbs and rhythmic delays."
While their live shows benefit from a second guitarist (Charlie Turner) and keyboardist, 'Where It All Began' has an organic approach with Gilbert, bassist Nick Suchak and drummer Max Parr working together to create an unconfined sound. As a collective, it has allowed them to develop a multilayered sound.
"When we go in to the studio, we go with the mentality of not holding back with one layer each. We take pride in the fact that the different sounds you hear come from a variety guitar pedals, amps and guitars. We don't use synthesisers and keyboards in the studio. We want the live experience to be entirely different."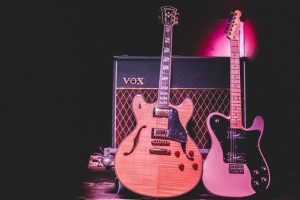 In addition to using the Strymon Timeline Delay and Big Sky Reverb pedals, Jordan cites the Ibanez Tube Screamer and Seymour Duncan 805 pedals as being effective for the overdrives that gives 'Where It All Began' its heavier edge. When combined with his beloved Vox AC30C2 amp, Gilbert admires the "classic British rock tone" it provides.
Although he began learning on a Ibanez Gio as a teenager, Jordan has developed a love for Fender Telecasters. "My Fender '72 Tele in artic white looks amazing and has a lovely maple neck which is easy to slide up and down. I'm also into Semi-hollow guitars (such as the Washburn HB35 guitar) as they are really warm and thick sounding."
With Coldbones' sound covering a wide birth of textures and tones, Jordan's set up includes numerous pedals. In addition to the aforementioned Strymon Timeline Delay and Big Sky Reverb pedals, the Boss Chorus CH-1, Seymour Duncan 805, Electro Harmonix Big Muff Mini, and Dunlop Kirk Hammett Wah make up the remainder of his pedal board. While Gilbert considers the Boss ES8 Midi Switcher to be "a life saver". More recently, Walrus Audio's Iron Horse V2 has become his primary distortion pedal. "It's so thick and could cut through a Lemmy riff any day! I'm certainly looking into getting more of their pedals," Jordan tells us.
As Coldbones have now released 'Where It All Began', Jordan will have the opportunity to test out his new pedal with a smattering of shows lined up including an appearance at ArcTanGent. For Jordan, it'll allow him to improve playing to a live click. He closes by explaining, "I'd like to be super solid with it making sure I'm playing my tremolo parts in time and keeping dynamically in sync with the rest of the band."
---
Jordan Gilbert's Current Set Up:
Guitars:
Fender '72 Deluxe FSR telecaster in Artic White
Washburn HB35
Amplifier:
Vox AC30 C2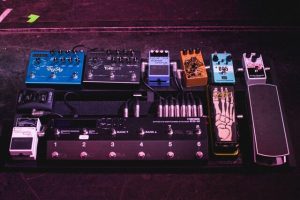 Pedals:
Boss Chorus CH-1
Seymour Duncan 805
Electro Harmonix Big Muff Mini
Dunlop Kirk Hammett Wah
Strymon Timeline Delay
Strymon Big Sky
Boss ES8 MIDI Switcher
Walrus Audio Iron Horse V2
---

'Where It All Began' by Coldbones is out now on Crooked Noise.
Coldbones links: Facebook | Twitter | Instagram
Words by Sêan Reid (@SeanReid86)
---
If you have enjoyed reading this article and would like to help us produce more content and promote more great new music, please consider donating to our Patreon page.