---
On their debut album, 'How To Let Go', blanket set out a vivid, cinematic display both audibly and visually. Through a compelling set of ambient rock with towering, harmonious instrumentation, the quartet has created a stunningly beautiful record. Yet, for guitarists, Bobby Pook and Simon Morgan, the path they have individually taken to being part of blanket has considerably been different.
For Morgan, being exposed to his sister's broad taste in music spurred him to be in a band. "When I was growing up, my older sister, Alex, had a very eclectic taste in music, listening to bands like Pink Floyd, The Beatles, Jamiroquai, Faith No More, REM and Beach Boys, which I heard through my bedroom wall as a youngster and gave me an early interest in music," Simon tells us. "I used to borrow the albums and just sit and listen to some of them over and over."
While Simon's early influences go beyond blanket's hometown of Blackpool, Bobby's comes in the form of fellow North West band Oasis. "When I was about 13, my friend showed me the 'There & Then: Oasis Live at Maine Road' video. It blew me away," says Pook. Although his early motivation came during his teenage years, he took classical guitar lessons aged 8. "I think I only lasted a few weeks though, it hurt my tiny hands too much," he jokes.
Like many young guitarists just starting out, both Bobby and Simon began on reasonably priced guitars. "My first guitar was an Argos nylon strung classical, which I got for Christmas when I was around 12 years old," says Morgan. "I played it for a little while and then just put it down and didn't touch it for about two years."
While Simon briefly abandoned the guitar for drums, Bobby's first foray into playing the guitar began on his 14th birthday. "My dad bought me a Fender Squier Strat. It was one of the really well-made ones from the 90's that you don't seem to be able to get any more; classic sunburst, white scratchplate, it was amazing."
Although some teenagers pick up the guitar as a hobby, Bobby and Simon's individual aspirations to be in a band meant they would spend hours practising. "I was serious from day one, as soon as I got that guitar I was locked in the front room at our old house just practising," Pook recollects. "I played open chords for like a year before I learnt how to do bar chords. I remember the night I learnt bar chords. I was so happy."
In the years that followed, the pair would go on to play in various bands expanding their technique through playing different styles. Most notably, Bobby was (and is again) part of UK heavy pop-punk collective Me Vs Hero. "MVH was literally tuner, drive, noise gate and amp, obviously the playing style is a million miles away," he says. "I was always writing different styles of music all the way through my music playing life."
Whereas Pook's experience is rather different to what blanket serve up on 'How To Let Go'. Simon's previous bands include Goonies Never Say Die and Midas Fall. Both are more in line with the stirring, layered presentation of tracks such as 'The Devil Holds Fast Your Eyelids' and 'Worlds Collide'. "The experience of them has grown the way I write and perform parts," Morgan suggests.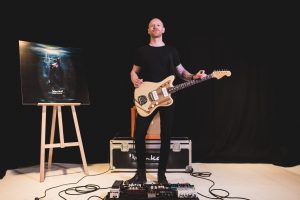 Even though his experience leans towards the post-rock genre, Simon is a believer that a guitarist should have a broad range of styles. "To be innovative on any instrument it relies on the re-synthesis of other styles to create something wholly new or exciting. Otherwise, people are just playing within their own defined limitations, blinkered to any other techniques or styles," he explains. While Bobby's diverse background has been an advantage to blanket. "I think if I had just learnt a post-rock style of playing, then this band would sound like every other band in the genre."
Having been part of the North West music scene, Bobby and Simon would find themselves living together in a rented house in early 2016. It was here where blanket's early ideas would take form yet would come to a sudden halt when Pook suffered 3rd-degree burns on his hands due to a house fire that summer. In the months that followed, as Bobby recovered, he and Simon along with bassist Matthew Sheldon and drummer Steven Pellatt, would flesh out the ideas that would form their debut EP.
Released in February 2017, 'Our Brief Encounters', laid down the foundations for what 'How To Let Go' would become. Its five songs seamlessly ebbed and flow with seasoned execution. By the end of the year, the quartet had inked a deal with revitalised rock and metal label, Music For Nations.
Whereas 'Our Brief Encounters' creation was mostly overseen by Morgan and Pook, 'How To Let Go' is a more of a collective effort. Both Simon and Bobby agree the recording process for their debut album has made them a better band.
"All the guys in the band have been playing for years, but with the preproduction and production process we were able to really look at the parts we play, see how they relate to the other parts being played and develop the arrangements that way," explains Simon with Bobby adding "It's not so much our technical ability but it's the tightness and velocities that we've improved on a lot."
With such a vast, at times dynamic, sound, both guitarists are able to use their instruments in a variety of ways. For blanket, guitars are just one part of the puzzle with the end goal being whatever complements the song best. "I like to think that all instruments have an equal part to play on the record, the orchestra and grand piano are every bit as prominent and important as the guitars on the record," states Pook.
"Both Bobby and I use the guitar in various ways within each song," Morgan says explaining the process of how guitars are weaved into blanket's audio fabric. "It could be that we're making more ambient pad type sounds that sounds quite removed from a traditional guitar tone, or if the song needs it we're playing chords drenched in distortion. So, the guitars do have a big role within the songs but perhaps utilised for their textures and tones more in certain sections, to complement the electronics/piano/strings/vocals."
Unsurprisingly, when it comes to discussing guitars and gear used during the creation of 'How To Let Go', both Bobby and Simon's list is extensive. "I cut my lead lines using my lovely 96 Fender Jazzmaster, a '72 Telecaster Thinline and a Telemaster, through an Orange head into an oversized Mesa 4X12," Simon tells us. "The Telemaster was a guitar that belonged to the studio and it just sounded so perfect for a lot of the parts we put down, clear but with plenty of body. I've been after one since!"
Having played with various bands for several years, like most guitarist, both Simon and Bobby have built an admiration for Fender guitars. "I'm quite partial to a Tele Deluxe or Thinline and used those guitars for years," Morgan explains. "The Jazzmaster is one I actually neglected as I just couldn't get along with the pickups and the way it played, so it sat in its case for about 10 years while I used my other guitars. I gave the Jazzmaster to a friend who works on guitars about 18 months ago and he just made it wonderful! It now plays so nicely and the tone is exactly what I'm looking for. It delivers exactly what I want in terms of tone and playability."
Bobby echoes his bandmates fondness for Fender as he says "I had Gibsons for years and they offer such a great standard rock tone but if you want personality and different more range in the spectrum of tones then Fender offer so much more, within my Jag I could play jazz, metal, anything all in one."
Although Simon and Bobby share guitar duties, it seems Pook maintained the rhythm parts with a Gibson Les Paul and Fender Jaguar Kurt Cobain Signature. While both members agree that they used "a hell of a lot of pedals", most notably the Strymon Big Sky, Empress Effects Echo System, and a JHS Sweet Tea. "My board is full now so no more spending insane amounts on pedals for me for a while," Bobby states.
Just like many instrumental-heavy bands before them, Bobby and Simon have embedded guitars into blanket's already stunning body of work with accuracy and precision. On 'How To Let Go', their guitar work is one of several elements that complement each other, with the end result being an immersive record. Its ambition and execution match the grandeur that it delivers.
---
Simon Morgan's Current Set Up: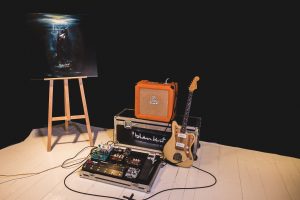 Guitars:
Fender Jazzmaster
Fender 72' Thinline guitar,
Amplifier:
Fender Twin
Orange Tiny Terror
Pedals:
Strymon Big Sky
Empress Effects Echo System
Earthquaker Devices 'Data Corruptor' ("this pedal is INSANE!")
'The Jamaica Ginger Cake' – a custom boost/distortion pedal
Dunlop Volume X pedal.
Boss ES8 MIDI Switcher
Bobby Pook's Current Set Up:
Amplifier:
Fender Deluxe Hot Rod
Pedals:
Strymon Big Sky
Strymon Mobius
JHS Sweet Tea
Boss ES8 MIDI Switcher
Empress EchoSystem
Electro Harmonix MEL9 Tape Replay Machine
---
'How To Let Go' by blanket is out now on Music For Nations.
blanket links: Facebook | Twitter | Instagram | Bandcamp
Words by Sêan Reid (@SeanReid86)
---
If you have enjoyed reading this article and would like to help us produce more content and promote more great new music, please consider donating to our Patreon page.