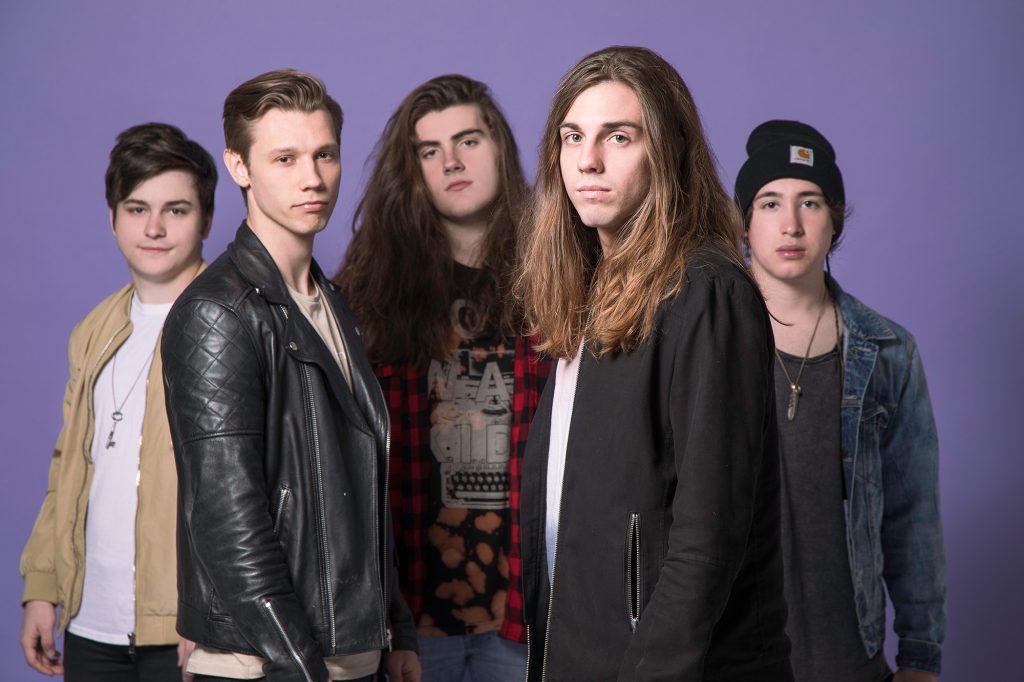 With its slick hooks and relatable, romanticised lyrics, Texas quintet Oh, Weatherly hit all the right marks when it comes to delivering a satisfying pop-rock record. However, debut record 'Lips Like Oxygen' offers so much more than you'd expect from a band of their ilk. Under the surface of catchy cuts such as 'I Think I Want You' and 'Chasing California', there is the struggles of vocalist Blake Roses.
Growing up in a privileged family, Blake was considered "the odd child" by his mum. As he pursued a music career, his life would become a rollercoaster of emotions. The happiness from the birth of his little sister would be short-lived, as his father suddenly passed away. Having never truly grieved, Blake focused on a relationship with a friend-turned-girlfriend. By the time he was 19, they were engaged. Yet with Oh, Weatherly on the rise having completed their first tour, he would be bought back down to earth with a bang as the engagement ended unexpectedly.
Understandably crushed, Blake would go on a reflective journey of creativity, positivity, and self-love with the end result being 'Lips Like Oxygen'. The record sees him paying tribute to the lessons he's learned and how those experiences have shaped him in becoming a better person.
Following its release on Hopeless Records, Blake penned a guest blog discussing the emotional toll writing and recording 'Lips Like Oxygen' had on him and how he hopes the album affects listeners.
---
I remember the first song I ever actually listened to and enjoyed. I was around 10 years old and my dad and I were heading to my baseball game in his convertible. He turned on 'Bodies' by Drowning Pool and I have no idea why, but that was the first time I fell in love with music! Every time we got in the car I wanted him to play that song so we could do ridiculous dances and sing along. That's what music is to me, a getaway in a convertible. When I'm sitting in my room playing acoustic guitar with the lights off and a salt lamp glowing, nothing else exists. The stroke of a single chord could provoke any current emotion I might be feeling. Writing music is the only way I know how to honestly face my emotions.
The writing and production of 'Lips Like Oxygen' was by far the most stressful, yet rewarding things I have ever done in my life. For the writing of the album, I decided to take off work for the two months leading up to recording. I was told about eight months in advance that we should get working on the full length. There were already two or three partial songs that I had demos for, but that was a long way away from 10 finished songs. Just knowing that you have to write 10 songs in X amount of time is so stressful and can make matters worse. Thankfully with the Hopeless Records team, I was able to get in contact with Jake Bundrick from Mayday Parade who helped me keep my head on straight. Jake was there through the entire process and any time I didn't know if something was good or if it just flat out sucked, I'd call Jake.

As the deadline got closer, a million things started running through my head: "Does this suck? Will this ruins my career?" These ideas started dragging me down. I remember on numerous occasions feeling pretty depressed and taking long walks in the middle of the night, almost convincing myself that it might be a good idea to quit. I knew that I couldn't give up though – this is my dream.
When we eventually got to the studio in LA, I was surprised at how fast our producer Jon Lundin was. We sat down on the couch for five minutes to "chat" for a little bit and he asked me to sing him my favourite chorus. I sang him 'I Think I Want You' and we literally sprinted upstairs to the studio room to begin tracking it. That entire song was recorded in about 8 hours. The next two tracks also came pretty easily without too much difficulty either. But the fourth song we recorded, 'Chasing California', completely wrecked me.
Imagine you're a snowball rolling down a huge hill with no end in sight and then *bam* a boulder pops up out of nowhere. On day two of recording 'Chasing California', I had a mental breakdown. Three months of nonstop writing finally cracked me.
When I walked in the studio that second day, everyone was already a little on edge and something about the energy in the room made me turn around and walk right back out. I ended up outside, sitting against someone's garage door with my head against my knees wondering if I'm cut out for this. I spent the better part of two hours there, mentally preparing myself to walk back in and finish what I started. In the end we were able to push through and 'Chasing California' became one of the singles from 'Lips Like Oxygen'.

This album tackles almost every kind of emotional difficulty that I struggle with on a daily basis. 'Dark Of The Night' and 'Where Have You Been' in particular were hard to write, simply because I was scared of being too open. The former is about mental health and loneliness, while the latter talks about the loss of my father and the ways in which his passing has affected my family. There are other songs like 'I Think I Want You' that talk candidly about the break off of my engagement.
Ultimately, every single track on the record tells a different story, but they all lead back to a central theme and message that I'd like to get across to people with this album: Expect nothing from anyone but yourself. Everything you do, do it with love and passion. You are in control of your life and happiness.
My real hope is that I can make a positive difference by sharing my stories and experiences, no matter how challenging they have been for me. I love you, humans.
---
'Lips Like Oxygen' by Oh, Weatherly is out now on Hopeless Records.