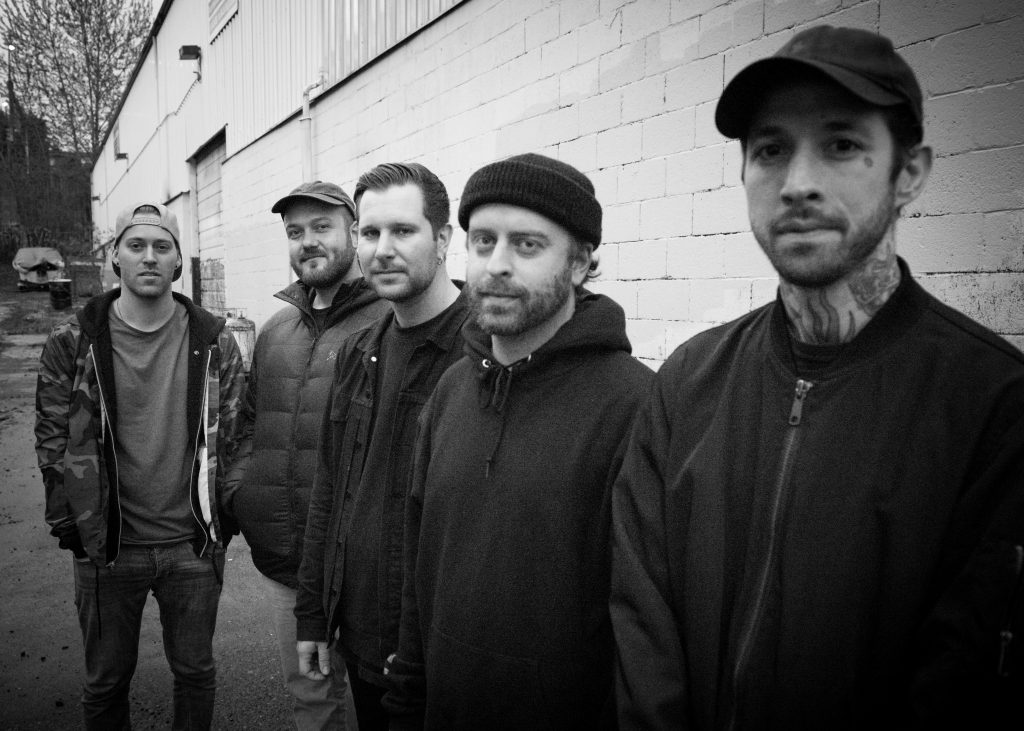 This Friday, Canadian punks Living With Lions return with 'Island', their first album in seven years. It also sees Chase Brenneman stepping up to lead vocals following the departure of Stu Ross in 2012. Nevertheless, 'Island' sees a band reinvigorated, having spent the intervening years since 2011's 'Holy Sh*t' touring wherever and whenever possible. It's a juggernaut of a record, full of big, melodic hooks with a punchy punk core.
Yet underneath the soaring choruses on songs like 'Dusty Records' and 'On A Rope', there's lyrical sentiment that runs through the record. Their hometown of Vancouver is considered the "third most livable city in the world", but as Living With Lions' Chase Brenneman explains, it's a city with its issues. On the closing title track, Brenneman speaks of the hope he has for the support given to those affected by the drug and mental illness issues that have dominated the East Hastings area of the city. As for the record in general, 'Island', highlights LWL's care for their city and standing up for those who need support.
As part of our ongoing series of Guest Blogs, Chase Brenneman has written a piece discussing the disturbing issues that are considered unsolvable in Vancouver, yet there are those who are willing to give hope for those in need.
---
Every city has its issues.  Sometimes it's overpopulation, poor infrastructure. Maybe it's air quality or corruption. They can be small obstacles or a seemingly unsolvable mess. Vancouver isn't any different, in fact, there's a lot I could get into about the place I live, but there is one issue that is arguably at the top of the list: The Downtown Eastside.
Addiction and mental health are really at the heart of the issue with East Hastings. I say "issue" but that word seems way off-base. It's an epidemic. When we were writing our new record I wrote a song, which ended up being the title track 'Island'.  I wrote it about friends I had seen going through drug addiction and mental health issues. I knew it was something that would possibly affect me in one way or another at some point in my life, but when I did finally see it first hand, it was almost impossible to be prepared for.  The song really has more to do with my personal relationships with those people, but it was so easy to draw inspiration for it. If you live in Vancouver, you literally see drug addiction at its worst every single day in some form, especially if you're anywhere near the Eastside. The worst part about it is, we did it to ourselves and now we have no way to fix it.
I want to preface this blog post by saying I'm not an expert when it comes to drug addiction or mental illness, I only know what I see and hear. I have a lot of close friends that work for nonprofit companies on the east side, helping and housing the residents, and obviously, they have stories. First things first though, I'll give you a brief rundown of how one of the most troubled neighbourhoods in North America came to be in "one of the world's most liveable cities".
For most of Vancouver's history, East Hastings was the cultural hub of the city.  In the 1940's the city centre moved west, towards the ocean and gradually East Hastings became more of a low-income neighbourhood.  In the 80's, the federal government defunded a bunch of social housing programs and that along with the provincial government, essentially shutting down a mental health care facility and dumping thousands of de-institutionalized patients with addiction and mental health problems on the Eastside, were two gigantic contributing factors. There are so many layers and that quick explanation is a huge oversimplification of how things came to be, but it gives you an idea of how this all happened.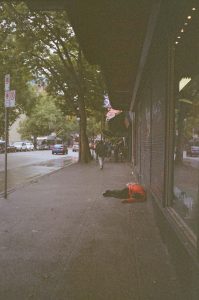 If you live in Vancouver, you see it every day, doesn't matter if you're on the Eastside or not.  A crack pipe on the ground, someone passed out in a doorway with a needle in their arm, maybe a person screaming nonsensical gibberish in the alley behind your house at 4am.  It's impossible to escape and eventually, it just becomes a normal part of daily life in the city. I can't really describe just how bad things are in East Hastings. Many of the low-income buildings are run by slum lords, infested with cockroaches and bed bugs.  Drug dealers are everywhere. While I was walking down Hastings and Main, taking photos for this blog post, I was asked if I wanted to buy "crack, jib (meth), heroine" at least five times. Five times walking down one city block. This is in broad daylight on a busy street in downtown Vancouver.  There were people passed out on the sidewalks, under doorways or overhangs… some with needles in their arms, others with crack pipes in their hands. It's so out of control the police, understandably, can't do anything about it anymore.
Things got really scary in 2017 when we had the Fentanyl crisis.  For those of you that don't know what Fentanyl is, it's a synthetic opioid that's 50-100 times more potent than morphine. It found its way into drugs all over the lower mainland but obviously, people on the Eastside were the most affected. That year alone there were over 1400 overdose deaths in Vancouver… FOURTEEN HUNDRED people died in Vancouver just from overdosing. Most of them were residents that lived in the Downtown Eastside. For a community with a population that's estimated to be roughly around 8000 people – almost 20% of the residents wiped off the map in one year. It was crazy hearing stories from my friends who work down there.  Dealing with several overdoses a shift, being responsible for saving people lives and seeing people die in front of them on a weekly basis. It wasn't just people using on the Eastside that were affected… casual drug users were dying as well. Fathers, mothers, children. It was incomprehensible.. and the worst part was, there was nothing anyone could do about it.
I think that's when things really started to sink in. Seeing my friends dealing with their own addiction and mental health issues, and watching literally hundreds of people die all over a city that proudly promotes itself as one of the most beautiful places in the world.  It was ugly, but ugly doesn't seem to really begin to describe this side of Vancouver. Luckily there are a number of groups on the Eastside that deal with supplying the population with affordable housing that's fair and decent, health care, safe injection sites, banks. I think one of the more important byproducts of all these great things they do is, it helps create a sense of community, something normal that people can be a part of.  Some people may not agree with some of the approaches they take to at least try to make things better, but at least they're doing something about it. They are there to help those people who don't have anyone else, struggling with drug addiction and mental illness all by themselves.
Every city has its issues.  Ours is unfortunately on the seemingly unsolvable side of things, but there is hope.  There are people trying to do better, make things safer and ultimately make a difference.  It's not going to happen overnight, but there's hope. I think that's really where I drew the most inspiration for 'Island'.  I could have made that song sad, but I didn't want to. That would have been easy. I wanted to give people hope. I wanted to be compassionate and supportive of people dealing with drug addiction and mental illness.  It's inevitably something that WILL impact us all at some point in our lives one way or the other. That's why I wrote 'Island'. That's why we named the record 'Island'. Our city has issues, just like any other and I've decided I don't want to be one of those people who learns to live with it anymore.
'Island' by Living With Lions is released on 21st September on Redfield Records (EU) / No Sleep Records (US) / Bloom Records (Canada).
Living With Lions links: Website | Facebook | Twitter | Instagram | Bandcamp