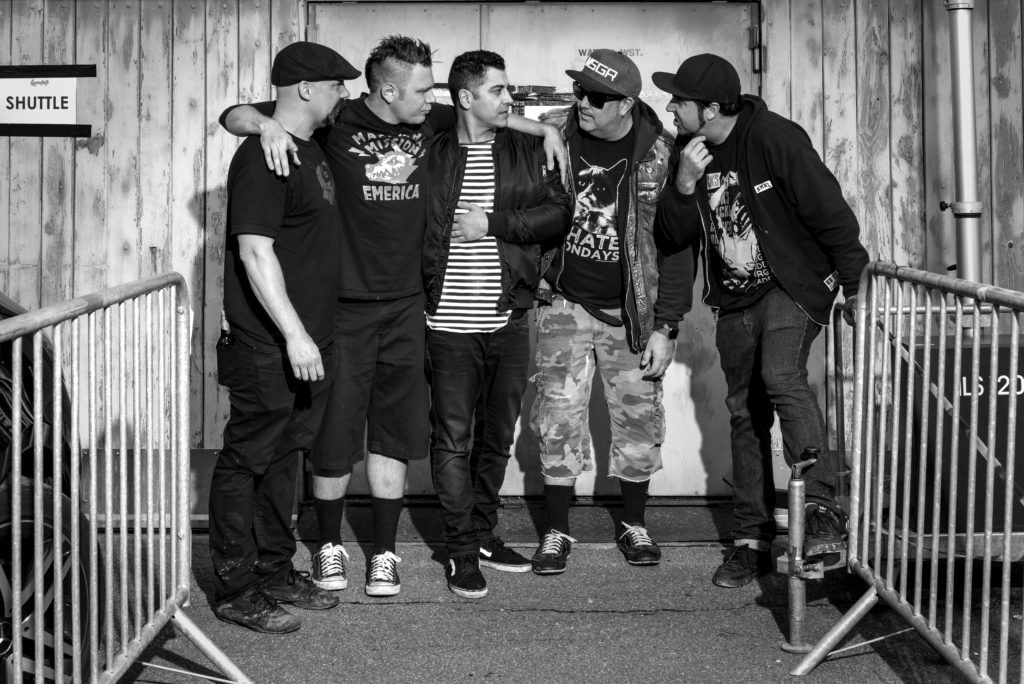 Ever since emerging out of Orange County, California over 20 years ago, Zebrahead have been pleasing the masses around the globe with their unique brand of punk rock. Brimming with an arsenal of infectious, fun-filled numbers, the quintet have routinely proved their worth with a host of albums, EP's and collaborations to their name.
This week sees them release their eleventh album, 'Brain Invaders'. It sees Zebrahead continue their feel-good fusion of rap-rock and punk. Throughout their career, they've shown a positive mental attitude, one that promotes unity all the while with a punk rock spirit. 'Brain Invaders' is no different as 'All My Friends are Nobodies', 'We're Not Alright' and the brass-fuelled 'You Don't Know Anything About Me' demonstrate. Beyond their good-humoured sense, the OC group do show a sentimental side as their songs do tell fans that it's okay not to be okay, yet they stay positive and keep the party going through it.
For vocalist Ali Tabatabee, Zebrahead's positive attitude is the result of a dramatic childhood that saw his family immigrate their home country of Iran to California. Ahead of the release of 'Brain Invaders', Ali has penned a guest blog for Already Heard explaining how his parents assured outlook has influenced him, and how he put that ethos into his work with Zebrehead.
---
On a chilly morning in the suburbs of Tehran, Iran, my mom held my three-year-old sister's hand as they crossed the street to enter the local pharmacy that was a ten-minute walk from our home. I knew my sister was excited to go because she knew our mom was going to buy her the doll she had been asking for since the last time they had visited the store. The pharmacy was keen to the fact that mothers would often bring children with them, so they had a toy section that the kids would ultimately make their way to. As my mother and sister walked through the soap and shampoo aisle towards the toy section, my mom heard shouting outside the front door. Suddenly, gunshots rang out as people screamed and took cover. My mom grabbed my little sister and hid in the corner of the store while more shots were fired and people ran for safety. The Iranian Revolution had hit home.
This is the story my mom tells me when she describes the tough decision to leave our country and immigrate from Iran to Southern California to start our new lives. My dad sent my mom, sister and I to stay with my grandparents, who had moved to La Mirada, California while my dad's siblings were enrolled at Cal State Fullerton. My dad stayed behind to try and sell some property and withdraw money from his bank accounts, as he knew the government was closing everything down to stop people from fleeing. He was only able to retrieve a small portion of what he and my mom had saved and left the rest behind. All of our lives changed forever at that time and at six years old, all I knew was I was excited that my parents were taking us to Disneyland when we got to California!
My parents never let on that they were scared or worried about starting a new life in a country where none of us spoke the language, and where we only knew a handful of people. They made it seem like an adventure. As young children, my sister and I had no idea how devastating this move must have been for them. Their positive mental attitude is what got us through this difficult time in our lives.
Having had the chance to play in Zebrahead for most of my adult life has given me the opportunity to express myself through our songs and lyrics. I've always strived to use my parent's positive attitude towards life's challenges as an example in my own life. A lot of our lyrics express the feeling of helplessness that we all may feel at times, but I think there is also a sense of hope and ardour in our songs that resonates with our fans.
Our new album ('Brain Invaders') deals a lot with the current social and political climate of divisiveness that has been overwhelming for the past few years, but counters it with messages of hope and community. Songs like 'We're Not Alright' and 'All My Friends are Nobodies' touch on the importance of understanding that it's okay to feel uncertain or down. And that allowing yourself to go through difficult emotions, and come out on the other side with a better understanding and acceptance can make your situation better.
Our band, as well as our fans, have always had a fun and positive attitude that I think has been the reason for our long career. Everyone has their own experiences that shape their outlook on life. I am lucky to have amazing parents that showed me by example how important a positive mental attitude is to a happy life, and I try to impart this in our songwriting and at our shows.
---
'Brain Invaders' by Zebrahead is released on 8th March on MFZB Records.
Zebrahead links: Website | Facebook | Twitter | Instagram