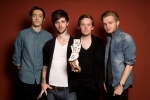 Merseyside band Guardians have announced they will release self titled mini-album 7th January.
1. Intro
2. An Enemy Of My Enemy
3. New World Order
4. Follow Your Heart
5. Make It Out Alive
6. Interlude
7. Red Eyes.
The video for 'New World Order' can be viewed by clicking read more.