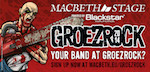 The final 10 bands from Macbeth Footwear and Blackstar Amps' Groezrock competition has been announced.
The final ten includes four UK bands; River Jumpers, Still Bust, My Extraordinary and Fathoms.
All ten bands will play the Macbeth stage at Groezrock 2014, which takes place on May 2nd & 3rd in Meerhout, Belgium.
The final 10 bands are:
Edward In Venice (Italy)
The Tramps (Belgium)
Shell Beach (Hungary)
Moments (Belgium)
The Ignored (Belgium)
Kids Insane (Israel)
River Jumpers (UK)
Still Bust (UK)
My Extraordinary (UK)
Fathoms (UK)