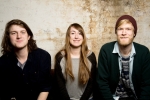 Next month Great Cynics release their sophomore album, 'Like I Belong' through Bomber Music.
To give fans a sneak preview of the album, the trio has released the music video for 'Back To Hackney' and can be viewed by clicking read more.
Great Cynics will be touring with Broadway Calls and Gnarwolves later this month.
March 
23 – London Underworld
24 – Margate Westcoast Bar
25 – Stoke On Trent Minsters Bar
26 – Manchester Star And Garter
27 – Bristol The Croft
28 – Kingston Fighting Cocks
29 – Southampton Unit