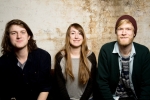 Recently Great Cynics recorded a session at Soundlab Studios in Essex as part of their 'Live at The Lab' video series.
The session can be checked out by clicking read more.
Great Cynics' new album, 'Like I Belong' is set to be released in April through Bomber Music/Lemon Days Records.