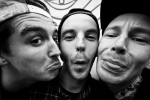 Gnarwolves have announced they will be releasing a double 7" EP entitled 'Fun Club'.
The first part sees the band re-releasing last year's cassette EP of the same name, with part two consisting of cover songs from the likes of Converge, Green Day, AFI and Black Flag.
'Fun Club' will be released through Dog Knights Productions in three different colours; Black with white glitter (100), Orange and blue mix (200) and Yellow with green splatter (300).
Fun Club:
1. Party Jams
2. Decay
3. No Time For Old Bones
4. Reaper
5. Chlorine In The Jean Pule
Covers:
1. Eagles Become Vultures (Converge)
2. Pulling Teeth (Green Day)
3. Gimme Gimme Gimme (Black Flag)
4. The Boy Who Destroyed The World (AFI)