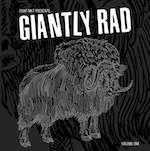 Emerging record label Giant MKT has released a 21 track sampler album. 'Giantly Rad: Volume One' features a host of UK, European and US bands including Man Overboard, You Blew It!, Pentimento and Crash Island.
'Giantly Rad: Volume One' is available to download for free here.
A Will Away – The Masochists Daughter
Adam Rubenstein – Helpless
Backlashes and Bad Ideas – Defend Josh's Life Choices (Feat. Fred Mascherino)
City of Ghosts – The Traveler
Crash Island – Loved Ones
Cross Town Train – Cold Coffee
Heron – Ghost Of Seven Hearths
Hexis – Exhausit
Homage – Definitive
Man Overboard – Open Season

Monotheist – Elegy of the Sleepwalkers

Old Ivy – Flawless
Pentimento – Just Friends
Primitive Man – Ties That Bind and Sever
Rosetta – Myo / The Miraculous
Stranger Day – Sea Full of Lions (Prod: Mykal Star)
The Assembly Line – Photographs
The Color and Sound – Slow Decline
Totem Skin – He Wears a Mask, and His Face Grows to Fit It
You Blew It! – Award of the Year Award
Young Statues – Ghost Passenger
Click read more to stream 'Giantly Rad: Volume One'.