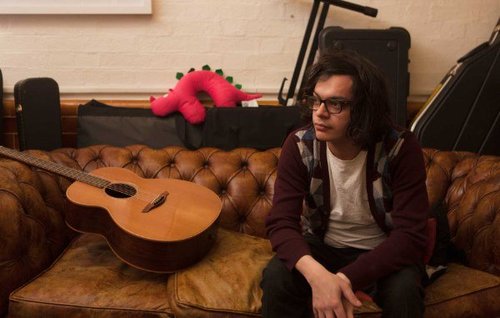 To coincide with his final London show, Get Cape. Wear Cape. Fly. will be releasing his final album, 'London Royal' this Friday (September 12th) through Alcopop! Records
The album is made up of recordings that were abandoned whilst Sam was very ill.
1 Remember
2 Recession Song
3 Forgiveness
4 The Inquest
5 The Argument
6 Life on the Touchline
7 Breaking News
8 Upsides
9 Fineline
10 After Hours
Here is what Sam Duckworth aka Get Cape. Wear Cape. Fly. had to say about the album:
"There was a time that I couldn't imagine life without get cape. wear cape. fly. It became claustrophobic. Maps was a release, fun to make and pressure free. Its a little disjointed but some of the tunes are really good I think. A few months after its release I ended up getting seriously ill, at one point possibly terminally ill. Things changed pretty quickly and life needed a re shuffle. Essentially I lost the plot bit by bit whilst pretending I had any idea what was going on. Everything was a mess and music wasn't the answer. Fast forward to now and things are excellent. I feel healthy and liberated, albeit tired and emotional.
These are the recordings that were abandoned after I started to recover. Amazing Grace [Sam's debut album, due in early 2015] needed to be made and the writing was on the wall for Get Cape.. etc. Remember was finished for record store day but everything else was either too hard to finish, or in danger of losing the sense of mind the recordings convey. I can hear how ill I was and it's interesting enough to be left untouched. It's the partner disc to Amazing Grace, but a combination of things has meant the timing, in true Duckworth style, is late. Thankfully these are able to be released just in time to signal the end of get cape. It feels fitting that the final album from this project remains unfinished, as there is always work to be done."
A free download of 'Life on the Touchline' can be found by clicking read more.