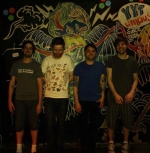 Math Rockers Gallops have announced they are splitting up.
The band released the following message:
"Hello Earth,
We are sad to announce that as of now Gallops is dead. We've been to some really great places over the last 6 years and met some amazing people but Gallops as we know it has unfortunately run it's course.
We'd like to take this opportunity to thank everyone that has supported us along the way.
Watch this space for future projects from members of the band. Music will continue, Gallops will not.
Love you all,
Mark, Paul, Dave, Brad
X"