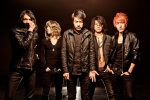 Japanese quintet Crossfaith are offering a track called 'Photosphere' as a free download, and can be found here.
The track precedes the release of the bands forthcoming EP, 'Zion' which is (finally) due to be released in the UK next month. 
Crossfaith will begin working on a full-length in January.