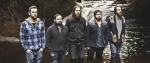 Glasgow Prog rockers Atlas : Empire are preparing for the release of their new EP, 'Somnus' and have treated fans to a sneak preview in the form of a free song download.
'Binary Lung' can be streamed and downloaded by clicking read more.
'Somnus' will be released on 12th August through Cold War Legacy Records.