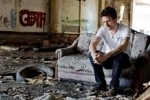 Frank Turner has been confirmed to headline this year's Y Not Festival. He joins the previously confirmed headliners Dizzee Rascal and White Lies at the three-day festival in the Peak District.
Other names set to play the festival include Reel Big Fish, Andrew WK, The Blackout, Itch, Lonely The Brave and Brawlers.
The Y Not Festival takes place from August 1 to 3 at Pikehall, Derbyshire. Tickets priced at £84 and can be purchased here.
Click read more to view the full lineup so far.
Frank Turner & The Sleeping Souls
Dizzee Rascal
White Lies
The Fratellis
Newton Faulkner
Reel Big Fish
Andrew WK (solo)
The Blackout
Cerebral Ballzy
Catfish & The Bottlemen
Itch
Eliza & The Bear
Lonely The Brave
Darlia
Night Engine
Best Friends
Flyte
Brawlers
Nothing But Thieves
Nordic Giants
Black Moth
The First
Youth Man
Hungerhoff & The Wild Roots
Razorlight
Shed Seven
Ella Eyre
Swim Deep
Saint Raymond
Beans On Toast
Yuck
Circa Waves
DZ Deathrays
Menace Beach
The Wytches
King Pleasure & The Biscuit Boys
Amber Run
Nordic Giants
Tiger Cub