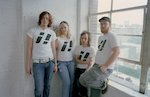 Post-punk band ¡Forward Russia! have announced they will be reforming for this years Live At Leeds Festival.
The quartet will play at Leeds Town Hall, a new venue as part of the Live At Leeds lineup, and the show will take place on Saturday May 3rd.
The support for the show is made up of I Like Trains, Lanterns On The Lake and Sam Airey.
Live At Leeds takes place throughout the city from 2nd – 5th May.
Visit liveatleeds.com for more information.