While we have some almighty impressive festivals here in the UK, every year mainland Europe has a host of festivals that are on par with ours. Alongside festivals such as Germany's Rock am Ring & Rock im Park and Austria's Nova Rock there is the monstrous HellFest.
Taking place in Clisson, France across three days this weekend, HellFest is from top to bottom, full of big and influential names from all corners of metal and rock. Deftones, Parkway Drive, A Perfect Circle, Nightwish, Marilyn Manson, Limp Bizkit, Alice In Chains, Rise Against, Converge, Hatebreed, Bad Religion, and Napalm Death are among the names who will be joining headliners Iron Maiden, Judas Priest, and Avenged Sevenfold.
With such an outstanding lineup, the number of clashes is inevitable. If you've somehow grabbed a ticket; it was more or less sold out before a single band was announced, then you'll be pleased to know we've asked French technical death metal collective, The Walking Dead Orchestra, to pick out 5 bands to watch at HellFest.
With comparisons to Job for a Cowboy, Necrophagist, and Thy Art is Murder, The Walking Dead Orchestra hail from Grenoble. Their latest album, 'Resurrect', just received a re-release ahead of their appearance on the Altar stage on Friday. On songs such as 'Resurrect The Scourge' and 'Through The Realm Of Chaos,' are bursting at the seams with frenzied riffs and vicious growls and screams. It's easy to see why the quintet will be playing alongside Napalm Death, Children of Bodom and Suffocation this weekend.
Terror
Kevin Reymond (Guitar): It was my first hardcore show a few years ago and I was amazed by the aggression you could feel from the pit. These guys come with a really simple setting and play straight to your nerves, their show just feels real.
Dimmu Borgir
Florian Gatta (Vocals): Symphonic black metal gods. Crazy outfits, an epic and dark ambience, I can't wait to see them onstage.
At the Gates
Jean-Baptiste Machon (Guitar): They are melodic death metal pioneers. I'm glad I can finally see tunes like 'Terminal Spirit Disease' and 'Blinded by Fear' live.
The Hellacopters
Pierrick Debeaux (Bass): I once saw Nicke Andersson live playing a few Hellacopters songs – and I again get to hear the feel-good vibes coming from their rock n roll show, simple and efficient.
Origin
Cédric Ciulli (Drums): Not recommended for epileptics, Origin are fast, brutal and technical. They actually created technical death metal and be warned, for they'll shoot you down with heavy blast beasts.
---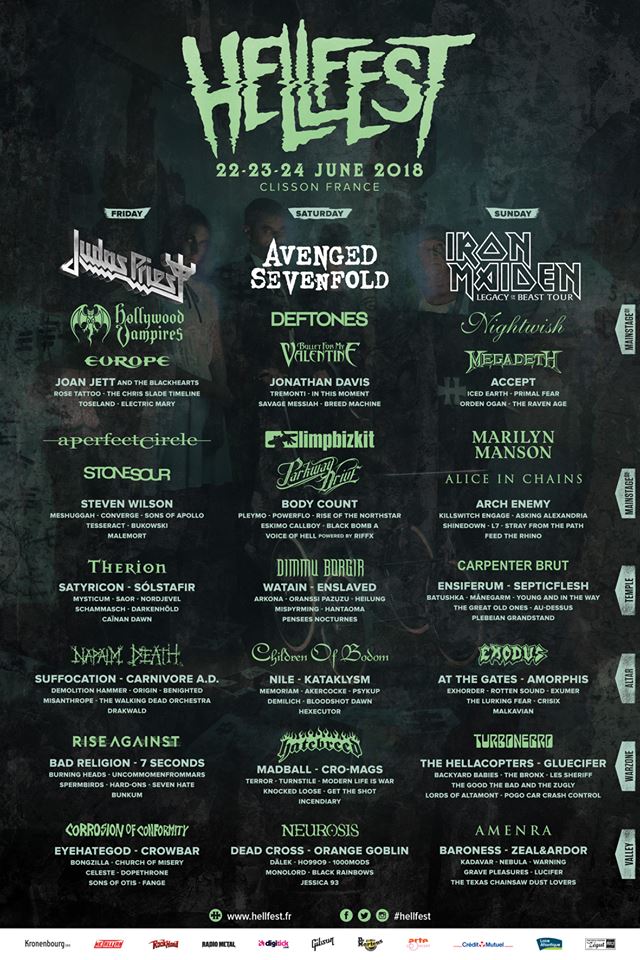 Hellfest links: Website | Facebook | Twitter | Instagram
'Resurrect' by The Walking Dead Orchestra is out now on Unique Leader Records.
The Walking Dead Orchestra links: Website | Facebook | Twitter | Instagram