There are a few festivals happening this month, and for metalheads, there is only one destination – Bloodstock!
For over a decade the Bloodstock Open Air festival has grown in size and stature, rivalling many of its European counterparts. 2018 is considerably its biggest event yet. As always, bands from the world heavy and extreme metal and hard rock will be taking over Catton Hall in Derbyshire for four eventful days.
With the likes of Judas Priest, Nightwish, Gojira, Emperor, At the Gates, Watain and Pallbearer being just some of the notable names set to play, Bloodstock isn't afraid to showcase new talent. Amongst the names appearing on the Hobgoblin New Blood this year are Sertraline.
Based out of Manchester and Leeds, the quintet have a tendency to provide colossal riffs with subtle grooves. While in Lizzie Parry, they have a vocalist with a stunning range. It's no surprise they've been likened to bands such as Jinjer, Arch Enemy and Halestorm.
For a rising hard rock band like Sertraline, playing Bloodstock is a big moment in their young careers. So it's no surprise the five-piece plan on staying for the entire weekend, and who can blame them when there's so much to see.
As they prepared to pack their gear and stock up on food and drink for this weekend, we asked Sertraline's Lizzie Parry about her five top tips for Bloodstock 2018.
---
Hundred Year Old Man
One of the reasons we are heading down early on the Thursday is so we can catch these guys opening the whole festival! They were one of the guest headliners at the M2TM Lincs Final, and they put on one of the best shows we've seen in a long time! Brutal, intense, jaw-dropping – don't miss it.
Where & When: Sophie Lancaster Stage – Thursday 9th August
Bleed From Within
We've got everything crossed that our set time on Friday doesn't clash with Bleed From Within. Our drummer Si is a long-time fan of Lamb of God and Whitechapel. Their similar styles and heavy grooves are something that he wants to get neck deep in the mosh pit for! See you there.
Where & When: Sophie Lancaster Stage – Friday 10th August
Suicidal Tendencies
They were the key influence on our bassman Hendo's thrash years back at the age of 15, when he first heard 'You Can't Bring Me Down' on the 'Lights…Camera…REVOLUTION!' album. None of us have seen them live before so it's definitely a bucket list band!
Where & When: Ronnie James Dio Stage – Friday 10th August
VOLA
We've been fangirls ever since we supported them in Basingstoke last year! Every track from their debut album 'Inmazes' is superb; we've all had it on repeat at some point. We're hoping to hear some of the highly anticipated new material, and we can't wait to sing the 'Stray The Skies' melody all weekend. Volaaaaa!
Where & When: Sophie Lancaster Stage – Saturday 11th August
Gojira
Massively looking forward to seeing those spooky French whale-whisperers Gojira! This will be our first time seeing them live, so we're expecting something pretty full-on. We've been a fan of their unconventional, almost otherworldly style for a few years now and their last album ('Magma') definitely didn't disappoint. Although if there isn't a giant inflatable whale crowd surfing, we will be slightly saddened.
Where & When: Ronnie James Dio Stage – Saturday 11th August
Sertraline links: Facebook | Twitter | Instagram
---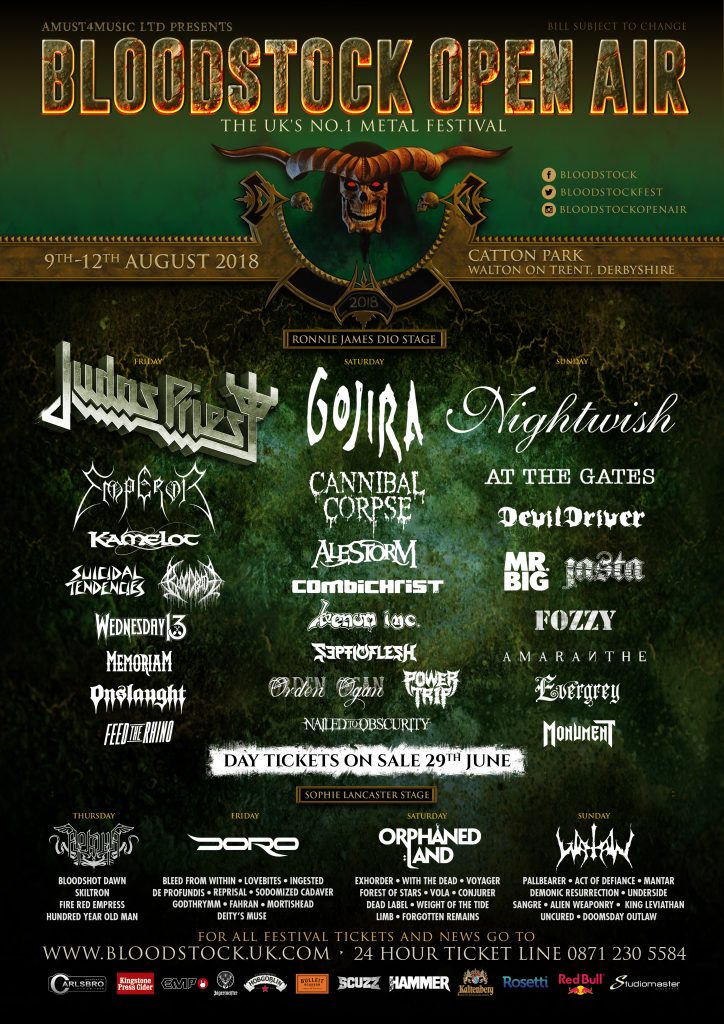 Bloodstock Open Air Festival 2018 takes place at Catton Park, Derbyshire on 9th – 12th August 2018.
Bloodstock Open Air Festival 2018 links: Website | Facebook | Twitter | Instagram