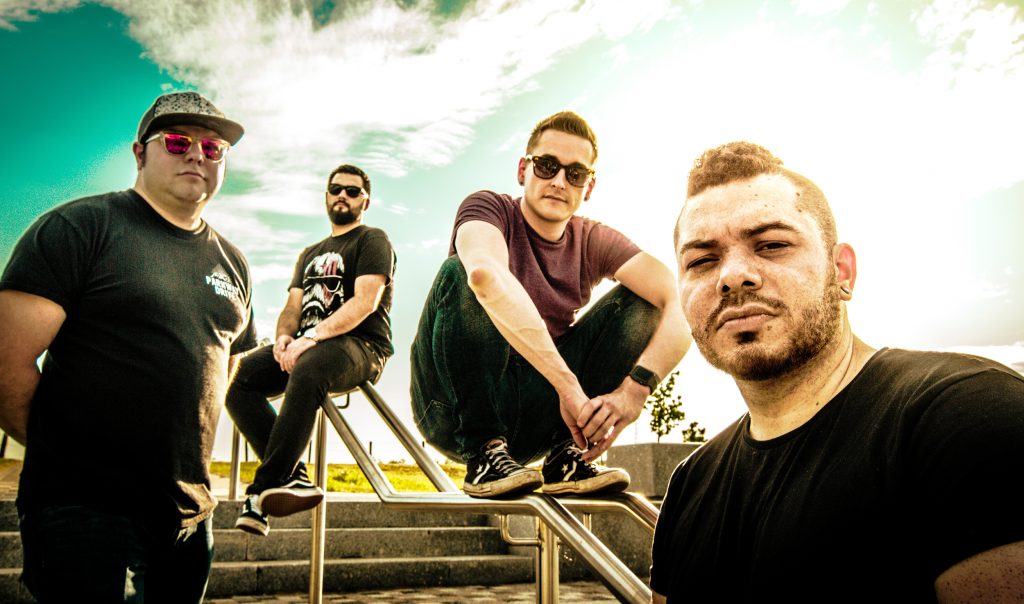 Earlier this year, Scottish electro-rap rockers Neshiima returned with 'Purple', the first in a trilogy of EP's. It saw the Glasgow quartet highlight vocalist Liam Hesslewood's personal battle with his religious upbringing. Now having taking an inward perspective last time out, the second part of the trilogy sees them an optimistic look to the future.
Set for release this coming Friday, 'Orange' sees Neshiima take aim as topics based on materialism, political unrest, personal suffering and the concept of freedom. Throughout, songs such as 'Feel It', 'The Forfeit' and 'Player One' are wrapped in a genre-blending cocktail of sounds and styles. From Hesslewood's rapid rhymes to Ross Cloughley's crunching riffs to the punchy pairing of bassist Craig Rankin and drummer Danny Cameron, 'Orange' seamlessly transcends stylistic borders without abandoning their metallic edge.
While it's clear Neshiima are fans of nü-metal, when it came to asking the four-piece to curate a list of their five favourite songs from the genre, they decided to head in another direction. We'll let them explain…
If you were to be a fly on the wall at a Neshiima rehearsal, you'd experience a lot of "off the cuff" flourishes thrown into the songs, which are reminiscent of influences that stretch beyond our melodic metal and hip-hop roots.
Due to our approach to musical composition and wide appreciation of music in general, when asked to produce a 'Top 5' list of favourite songs, we decided to send back something a little less "metal" than we hope you're expecting… So, here's our top 5 list, of Non-Metal songs (in no particular order):
Robert Miles – Children
Ross (Cloughley – Guitar): It reminds me of travelling all around Scotland and enjoying my childhood, and it's my driving song! Gets you ready for anything.
John Farnham – You're The Voice
Danny (Cameron – Drums / Sample): A song I heard randomly on the radio or tv when I was young but really appreciated when it was used in the movie 'Hot Rod'. An absolute belter of a feel-good sing-a-long!
Queen – Breakthru
Craig (Rankin – Bass / Vocals): My Dad listened to Queen almost constantly as I grew up and it caused me to really appreciate musicianship, especially the dynamics of a band, all playing together to make this one song, and this was always my favourite song.
Duran Duran – Ordinary World
Liam (Hesslewood – Vocals): If I had to chose a song that made me really feel something, the shortlist would have this song right at the top. Trying to find my place in the world is something I've always struggled with, and I still continue to fight with. This song brings me a lot of comfort.
Backstreet Boys – Larger Than Life
The whole band love this song. It's bold, it's brash and it's a solid banger. That chorus sticks with you, and it never leaves.
'Orange' EP by Neshiima is released on 21st September.