British Summer Time is here and with it comes the month of April. As festival season fast approaching, a wealth of notable album releases are happening in the coming months.
As always the first Wednesday of every month sees the Already Heard team picking 5 must hear releases for the coming month.
What album and EP releases are you looking forward to hearing this month? Let us know in the comments or on our Facebook or Twitter pages.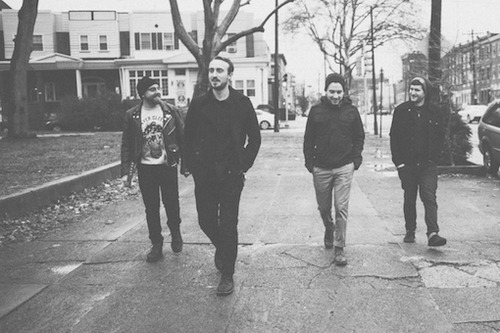 The Menzingers – Rented World
It is no surprise the follow up our 2012 Album of the Year ('On the Impossible Past') makes it on to this edition of "Fives". Nevertheless 'Rented World' is set to meet expectations as Philadelphia's The Menzingers have once again produced a stellar collection of punk songs filled with wisdom.
Tracks like 'My Friend Kyle' and 'The Talk' are nostalgic whilst lead off single, 'In Remission' perfectly captures a central theme of 'Rented World'; questioning the future and becoming more thoughtful. On top of that 'When You Died' offers a fitting and sombre conclusion.
With a one-off UK show taking place at the end of the month to coincide with its release, the return of The Menzingers is one that is welcomed with open arms.
'Rented World' by The Menzingers is released on 21st April on Epitaph Records.

Banner Pilot – Souvenir
With 2012's 'Heart Beats Pacific' showcasing a real development in Banner Pilot's song writing style, expectations are high for latest effort 'Souvenir'. Having had a sneaky listen to it, I can safely confirm that this is the best album the Minneapolis boys have released yet. Combing storming punk riffs with Steinbeck-esque American imagery, Banner Pilot have mastered their craft and this confidence shines throughout the album.
From the grab-you-by-the-throat catchiness of 'Modern Shakes' to the slow-paced beauty of 'Letterbox', there's plenty to love here. Stand-out track 'Colfax' is destined to appear on many summer playlists, with the immortal lines, "every drunken word is poetry and weeds turn to flowers somehow, against the wind you and me, it don't matter where we're blowing to", capturing the summery dreaminess the album possesses. If 'Heart Beats Pacific' was a winter album, with its descriptions of cold city streets and a "Midwest dustbowl", then 'Souvenir' is it's parallel; a summer album with a real emotive core, one that will still be played come December. (JS)
'Souvenir ' by Banner Pilot is released on 15th April on Fat Wreck Chords.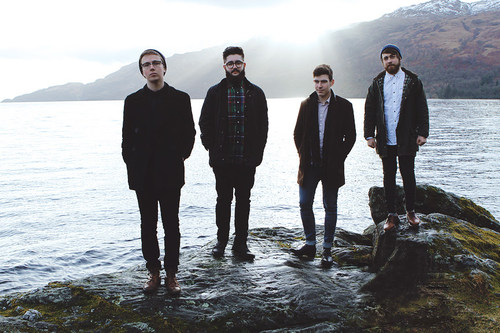 Fatherson – I Am An Island
For years now, anyone looking to hazard a guess at the UK's next breakout band has tended to focus their search north of the border. Bands like Biffy Clyro, Twin Atlantic and Frightened Rabbit have emerged from the thriving West Scotland scene primed and ready for main stream domination. The band next tipped to make a similar shot at the big time are Kilmarnock's Fatherson. The four-piece, fronted by Ross Leighton, are expected to turn heads with imminent debut album 'I Am An Island'.
'I Am An Island' perfectly encapsulates the band's hauntingly effecting approach to anthemic indie-rock, sweeping majestically from stark and fragile folk-tinged guitars to swelling crowd pleasing choruses. Capping off the record is Leighton's poetic exploration of the all too often unacknowledged isolation of modern living. Get ready to be the first to jump onto the Fatherson bandwagon when the record drops next week. (DW)
'I Am An Island' by Fatherson is released on 7th April on A Modern Way.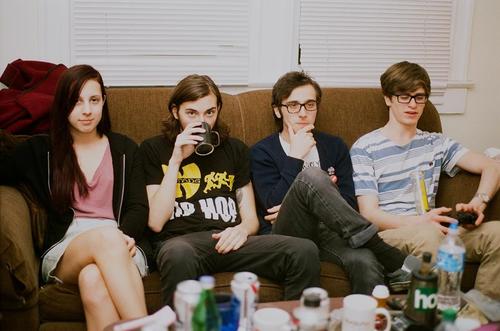 Donovan Wolfington – Scary Stories You Tell In The Dark
Woah. That simple exclamation could be a review in it self but I guess more explanation is necessary here. 'Scary Stories…' is one of the best things I've heard this year, and already a strong contender for my records of the year list. It's immediate in delivery, and is consistent in each track having the possibility to be a single. Not often you don't have even an EP without at least one filler track but 'Scary Stories…' was always going to be special. I knew from their previous record, 'Stop Breathing', that this band was one to watch, and if you follow my work then you'll know that I've championed them often.
'Scary Stores…' definitely deviates away from previous work but in a more focused manner, which really couldn't have worked better. I am by far the perfect writer, and maybe not the perfect person to give this record the review it deserves, but I can honestly say I don't think this release could be any better. It borders perfection on the emo/punk genre. It's released April 8th via the ever wonderful Topshelf Records, and is worth every single penny/cent that they ask of you. Please endeavour to give this record at least one listen, that's all I think you'll need. (RK)
'Scary Stories You Tell In The Dark' by Donovan Wolfington is released on 8th April on Topshelf Records.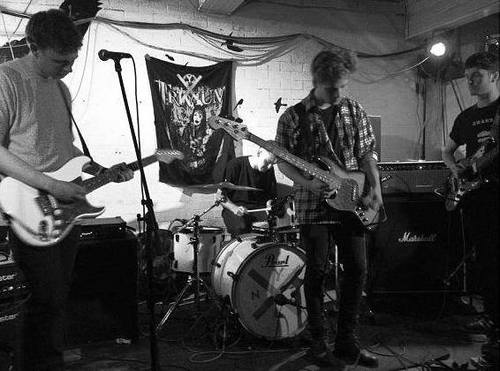 Walleater – Walleater
One of our hotly tipped favourites this year, Walleater, are sure to grasp a loyal following when this debut proper release drops. Last year's 'A Masking Aura' demo really showed the potential this Leeds quartet have; shoegaze-meets-emo-meets-alt rock which cradles you into a ball of loathsome. Now, the band will turn a hypothesis into theory with their first self-titled EP. Released on Close to Home Records and produced by Bob Cooper, Walleater have made something marvellous.
The EP involves a two part process. Part one begins with a warm, gloomy and fuzzy hug entitled 'Give in to Me'; aptly named, the quiet-loud effect works, luring the listener in. By the end of this first part, 'Just a Boy' sees the listener's conscience plunge into serene depths. Eventually it's lost into the static of part two. 'Glow' beholds instrumental shoegaze magic, which bubbles to the surface by EP closer, 'What Do You Know?'. Gentle notes and sweet ambiance nurse the drowned soul into an awakening eruption of fuzz. An incredible journey you ask? I think so readers, I think so…Think? Rather I know so. (AL)
'Walleater' by Walleater is released on 14th April on Close to Home Records.
Words by Sean Reid (SR) ,Jay Sullivan (JS), Dane Wright (DW), Rosie Kerr (RK) and Aaron Lohan (AL).