It's come and gone in a flash, but the festival season is almost done and dusted for another year. So, as the calendar draws ever closer to August Bank Holiday weekend, the ever-popular Reading & Leeds Festival extravaganza gears up its annual return to close your summer with some stand-out bands.
So, to get you all hyped up, we've put together a list of 10 of the best alternative bands that we think shouldn't be missed at this year's event.
---
Waterparks
Houston's Waterparks return to the UK to make their mark on the festival's Main Stage with their trademark colourful, sugar-coated bubble-gum rock. With two album's to their name already, including 2018's impressive 'Entertainment', the trio are sure to be armed with an arsenal of infectiously catchy hook-filled anthems certain to get a crowd bouncing.
Charismatic frontman/joker Awsten Knight has a sickly sweet vocal delivery capable of sending many younger fans into hysteria. Keep a listen out for huge tracks 'Blonde' and 'Stupid For You', they won't disappoint in a live setting. (DT)
When & Where: Main Stage -Friday Reading / Saturday Leeds
YONAKA
Absolutely storming the scene as ones to watch, Brighton rockers YONAKA come armed with snarling riffs that make a statement. Their upcoming EP 'Teach Me To Fight' boasts promise, with their latest single 'Waves' (from the EP) proving their songwriting abilities far outgrow their three years of formation.
Their live sets are intense whilst intertwining pop chorus. The quartet have already created a name as an outfit who burst through boundaries and propel in performance. Their angsty set is a stellar addition to the Festival Republic stage to this years' R&L, where they'll be nothing short of exhilarating. (FRJ)
When & Where: Festival Republic – Friday Reading / Saturday Leeds
Trophy Eyes
Having just dropped one of the best releases of 2018 in the cinematically compelling 'The American Dream', Aussie genre-blurring quintet Trophy Eyes make their way across to the UK for the first time in over a year with anticipation at an all-time sky-high.
Add to their repertoire the widely acclaimed album 'Chemical Miracle', which sprung the group's success, John Floreani and co head to the festival with the air of a band in their absolute prime. With a set that's sure to be packed full of hardcore bangers, huge sing-along vocals and a raw, hungry energy translated from their records to a live setting, Trophy Eyes are sure to be welcomed by a big crowd. (DT) 
When & Where: The Lock Up – Friday Reading / Saturday Leeds
The Used
Utah's emo-rock pioneers the Used have been at the business longer than many, producing seven full studio albums across a 16 year period, including their most recent 'The Canyon' which dropped earlier this year.
Back in the UK with a bang, expect an explosive show packed full of old, nostalgic tracks and fair few pieces of newer material. If it's anything similar to their recent stint on Vans Warped Tour earlier this year, then this could be one hell of a festival appearance from the four-piece. (DT)
When & Where: The Lock Up – Friday Reading / Saturday Leeds 
Deaf Havana
With so many sounds to their name, Deaf Havana are a band who can pick and choose from a hugely varied set of songs for their setlist. With their newest record 'Rituals' setting them on a pop-induced path, expect the Norfolk band to get a crowd dancing down on the BBC Radio One Stage.
The five-piece have gone from strength to strength in recent times, and their name being high up the bill on one of the event's most prestigious stages only goes to certify that. Not to be missed. (DT)
When & Where: BBC Radio One Stage – Saturday Reading / Sunday Leeds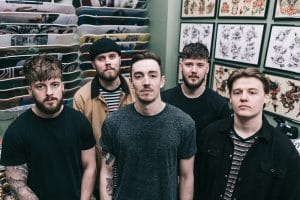 Trash Boat
Trash Boat are a band who, without a doubt, have created one of the best albums of 2018. Their second album 'Crown Shyness' (released in July) delves into emotional term through eloquent metaphors of nature.
The record displays the bands progression with a matured approach to song writing that propelled them into the refreshing territory of forward-thinking pop-punk. Being pinned to a genre that at times can be described as stagnant, Trash Boat are an outfit that are reinventing the meaning of the movement with their own benchmark sound. (FRJ)
When & Where: Main Stage – Saturday Reading / Sunday Leeds
Skindred
Reading & Leeds welcome seasoned veterans to the festival year upon year, including the South Wales titans Skindred.
With material from their seventh studio album 'Big Tings' championing the American airwaves, their set comes with the promise of timeless favourites of dubstep-come-hip-hop anthems with fresh Skindred tracks.
The Ragga Metal outfit will no doubt come armed with the Newport helicopter ready to tear up the Main Stage. (FRJ)
When & Where: Main Stage – Saturday Reading / Sunday Leeds
Sum 41
This year's line-up sees many pop-rock favourites from across the pond, however, Sum 41have truly stood the test of time in comparison to their peers. With a career spanning over 20 years, their back catalogue of adored anthems is an addition that represents the spirit of the festival that some may consider to have been diluted with vast genre change through the years.
Delivering in electric energy and pop-punk classics, Sum 41's Main Stage set is an essential watch for those we want to revel in nostalgia. (FRJ)
When & Where: Main Stage – Saturday Reading / Sunday Leeds
Beartooth
It feels like a long time since we last heard anything from Ohio's heavy-hitters Beartooth. However, the group resurfaced last month with the surprise announcement detailing that their third LP 'Disease' is set to drop later on this year, only adding more hype to their appearance at Reading & Leeds.
Known for their deeply personal lyricism and brutal instrumentation, there's bound to be a pit or two when the four-piece take their anthemic metalcore to the stage. Stand-out tracks from the band's discography like 'Beaten In Lips', 'In Between' and 'Aggressive', as well as recent singles 'Bad Listener' and Disease' will be sure to get some arms swinging. (DT)
When & Where: The Pit –  Saturday Reading / Sunday Leeds
Milk Teeth
Gloucestershire punk powerhouse Milk Teeth are returning to R&L after a year of change. With the departure of Chris Webb, Nervus' Em Foster has taken to the strings for their strong summer or shows to deliver their catalogue of grungy bangers.
Milk Teeth are a band who are fierce with every breath. They have nailed what it takes to be headliners with awe-inspiring dedication that oozes through them. With a new formation in tow, their set in The Pit will be their chance to prove once again that they are a roaring force that aren't losing momentum. (FRJ)
When & Where: The Pit – Sunday Reading / Friday Leeds
---
Essential Playlist
---
Info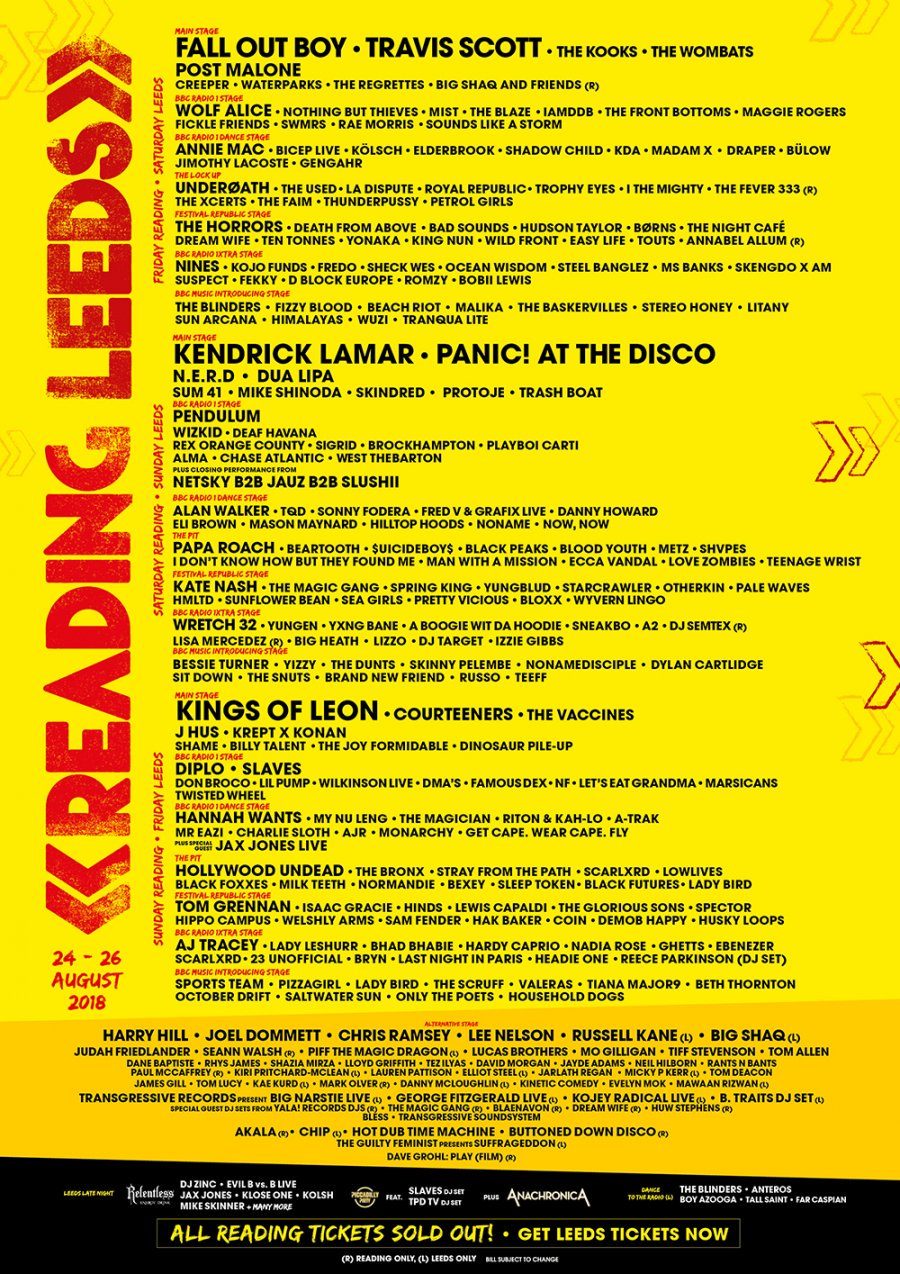 Reading and Leeds Festival 2018 takes place from 24th- 26th August.
Reading and Leeds Festival 2018 links: Reading Website | Leeds Website | Facebook | Twitter | Instagram
---