For many festival season is over for another year, but for us folk here at Already Heard we're ending the summer back where we started – in the city of Nottingham.
This weekend's Macmillan Fest brings together some of most promising UK metal and rock acts; Bleed From Within, The Safety Fire, Anavae, Follow You Home and The Hype Theory and see them playing alongside up-and-coming bands from the local area. Together they will be playing across 4 stages all for the good cause of raising money and awareness for Macmillan Cancer Support.
As a brief preview of what to expect this weekend, we spoke to three local bands; Lacey, We Are Tyrants and Layby to find out more about the festival's cause and what we can expect from their set.
AH: Was is it about the Macmillan charity and it's cause that drew you to playing Macmillan Fest?
Josh (Lacey): The charity does such fantastic work helping people where it can and it's definitely something that is close to our hearts and that we've been affected by personally. Macmillan has a renowned reputation for fighting for the cause so to be offered to play a show that will help raise money is something we're honoured to be a part of.
Benjamin (We Are Tyrants): This year we were lucky enough to actually be offered a slot on the festival, which is humbling enough as it is, but to be helping to raise money for a charity which helps people who suffer from what is UNDOUBTABLY one of the worst fates somebody can suffer, which supports them, gives these people advice and can take a lot of a burden of an otherwise horrible fate off. The opportunity both to play an INCREDIBLE show as well as be involved in something like this means a lot to us!
Aaron John (Layby): Most people have been affected by Cancer including myself. Being asked to play a festival dedicated to the fight against cancer is awesome. I just want to do what I can to help people, being able to do that through something I'm passionate about is amazing.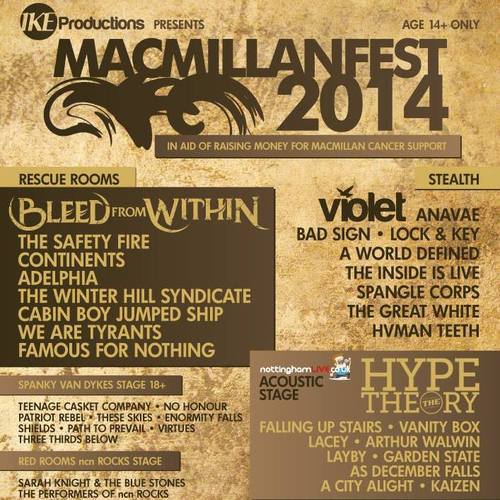 AH: Why should people support the festival and the charity?
Josh: The festival has so much local talent on display as well as some great touring bands, I strongly believe in supporting your local scenes as that's where all music starts. So as well getting a chance to watch a host of amazing acts you are contributing to a great charitable cause. What's not to love about that?
Benjamin: People should be behind the festival because it gives the smaller local bands chances to play with bigger touring bands on bigger local stages, and prove that they have what it takes, it provides publicity for every band involved and thus gives a good chance to make some new fans. I think people should be behind the charity because who's AGAINST giving cancer patients help? And of course when we spoke about the Macmillan charity before, a lot of those reasons are applicable here.
Aaron John (Layby): Everyone involved is 100% behind Macmillan Fest! IKE Productions have thrown together one hell of a line-up and raised so much money for those in need.
AH: What can fans expect from your set at Macmillan Fest?
Josh: We're playing an intimate full band acoustic set, which isn't our usual live show so it'll be a different Lacey to watch but still full of big tunes to sing along too. We'll be showcasing some brand new material from our debut album 'Under the Brightest Lights' which is set for release this year.
Benjamin: Fans can expect the same thing they can expect at any show of ours, a show where every member plays their heart and and gives every scrap of energy they have to give, a show where a message of positivity, freedom, and love is delivered to willing ears. Expect a lot of excited shouting and going crazy on stage. Almost all of our music talks about dealing with negativity in one form or another, be it corrupt governments, depression, coping with a sudden and tragic loss, but we try to turn it around, and make it positive. Positive thinking is incredibly good for you and we try to spread good vibes!
Aaron John: Well it will be our first intimate acoustic show with our songs stripped down. There's definitely a different feel to them. It's interesting. You'll see our passion and us playing the best we can to give an awesome show.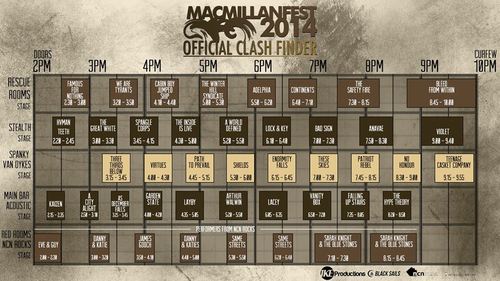 AH: Any final words for Already Heard readers?
Benjamin: Final words are, thankyou so much for taking the time to talk to us, we enjoy talking about this sort of thing! And remember, even though all is not as it seems, and the world is a shitty place, we CAN change it, stay positive and be sure! Don't be a dick and peace out!
Aaron John: Thanks for reading! Do your bit for the Macmillan Charity and either come down to the festival or donate!
Macmillan Fest 2014 takes place across various venues in Nottingham on 6th September 2014.
Macmillan Fest links: Facebook
Macmillan Cancer Support links: Website|Twitter
We Are Tyrants links: Facebook|Twitter
Words by Sean Reid (@SeanReid86)