In its second year, ArcTanGent is quickly rising to prominence as a festival staple for the connoisseurs amongst rock fans. Melding the worlds of math and post-rock (along with other stylistic elements) into a gooey, rich, riffy mess; this may be one of the more niche events on the festival calendar, but for those who get it, this is nirvana.
Here's just some of the acts you should be checking out this weekend below, as chosen by James Berclaz-Lewis and Ollie Connors.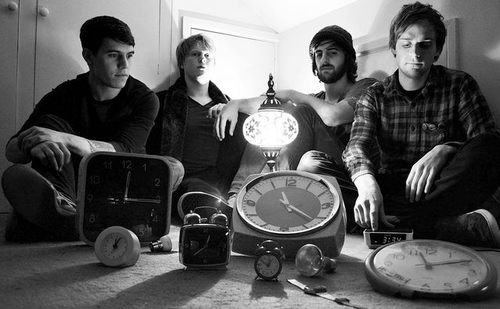 Gunning For Tamar
It's been a little quiet of late for the Oxfordians, but you'd best believe their set is just as incendiary as ever. We last heard from the trio with 2013's EP 'Camera Lucida', but the Alcopop! favourites are set to do what they do best and righteously rock a festival setting. In a lineup of noodly riffs, Tamar's direct delivery will make for a refreshing excerpt in your weekend. (OC)
Where and When: Bixler Stage, Saturday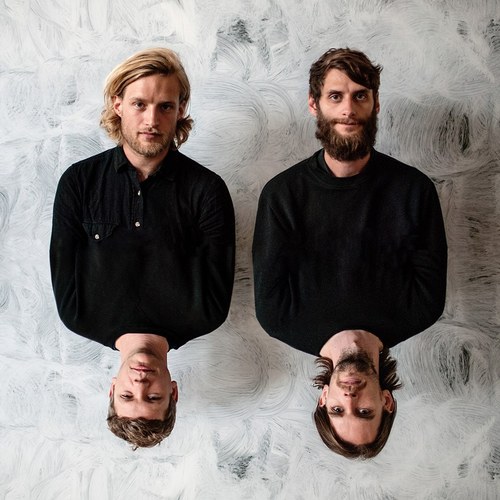 Tall Ships
A fixture at these sorts of festivals for some time now, this might just be the last time you get to catch the Brightonians playing the small festival circuit. Currently recording the follow-up to 2013's brilliant 'Everything Touching', their début full-length, Tall Ships have augmented their number to become a five-piece, and their sophomore offering is set to be something rather special. Catch them while you can. (OC)
Where and When: Arc Stage, Saturday.
Tellison
The third Tellison album is becoming somewhat of an indie Chinese Democracy, the band yet to release anything since 2011's 'The Wages Of Fear'. However, despite perenially discussing writing since then, yours truly finally heard snippets of their new material at a recent date supporting Kevin Devine, and, as expected, it's quite marvellous. The Londoners (via Bristol) are set to come back with a bang very soon – make sure you heard it first at ArcTanGent. (OC)
Where and When: Bixler Stage, Friday.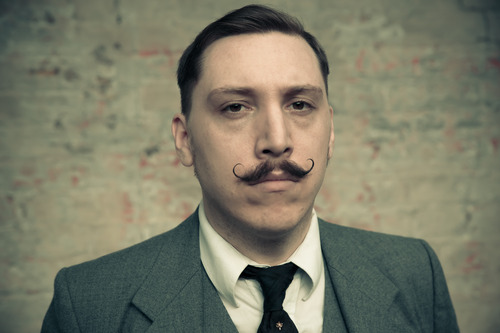 Jamie Lenman
Since releasing experimental double album 'Muscle Memory' last year, the career trajectory of the former Reuben frontman has launched skywards. Accompanied by a usually elegantly dressed backing band, expect the unexpected from Lenman and his charges, with a set that fuses bruising and furious hardcore with gorgeous country/folk influenced ditties, not forgetting burlesque banger 'Pretty Please'. (OC)
Where and When: Arc Stage, Saturday.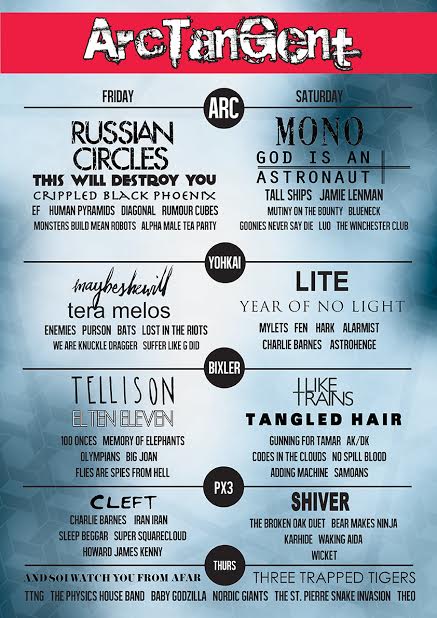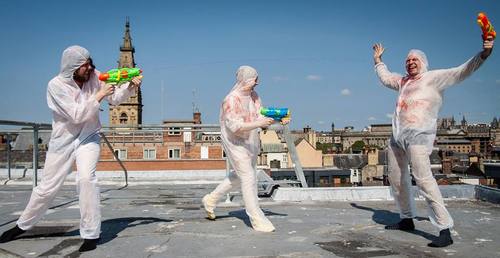 Alpha Male Tea Party
Not content with having released one of the most outrageously fun records of the year, let alone within the confines of post/math-rock, AMTP have the privilege of firing up the Main Stage on Saturday. Drop your coffee, Pro Plus, awful festival brunch food, and aspirin because nothing will serve as a better wake up call than these lads' energetic twists and turns. There is quite literally no excuse to miss the deliciously progressive havoc AMTP will unleash for the benefit of its audience. The band's fluid identity, shifting between expansive—yet often short-lived—sonic exploration and frenetic math, makes them the most appropriate band to kick off the festival proper. Be there. (JBL)
Where and When: Arc Stage, Friday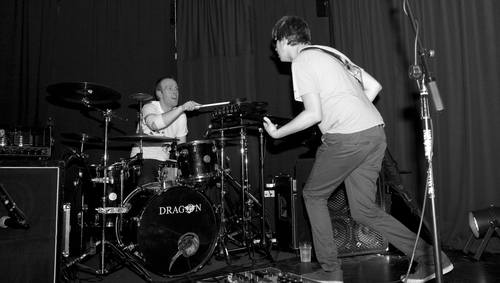 Cleft
Genre aficionados might find this choice something of a bold proposition in that it involves giving math-rock legends Tera Melos a miss. Heresy! Set the tinder alight! I hear them scream. Yet there occasionally comes a time where you have to take a risk, and the power duo's hyper-rhythmic brand of racket is exactly the sort of thing that deserves your attention. It promises to be loud, fun, somewhat danceable at times, and will likely finish top of the off-kilter head-nodding league table by the end of the weekend. Things, believe me, are going to get dirty, and you won't believe how much noise two people can make. (JBL)
Where and When: Bixler Stage, Friday.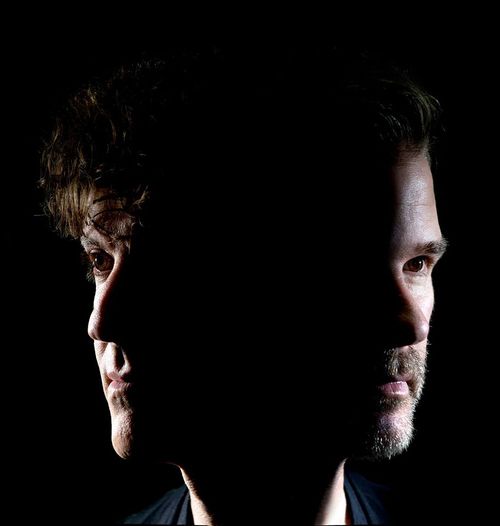 El Ten Eleven
Catching my second duo of choice for the festival, minimalistic Americans El Ten Eleven, will require you missing Maybeshewill, but, let's be honest, if you're planning on going to ATG, it's fairly likely you've had more than enough chances to catch the latter in the past (though don't get me wrong, I'm still torn given how much I fancy hearing their new material live). If you do decide you prefer the combination of the most versatile bass-playing ever and drums to lots of keyboards, then you'll find yourself locked in a mesmerizing sea of grooves and overlays. Never ones to rush things, however, this will likely be one of the best chances to chill out a little, and given the melancholy leanings of their most recent album, there's even the odd chance of hitting a couple of nerves. (JBL)
Where and When: Bixler Stage, Friday.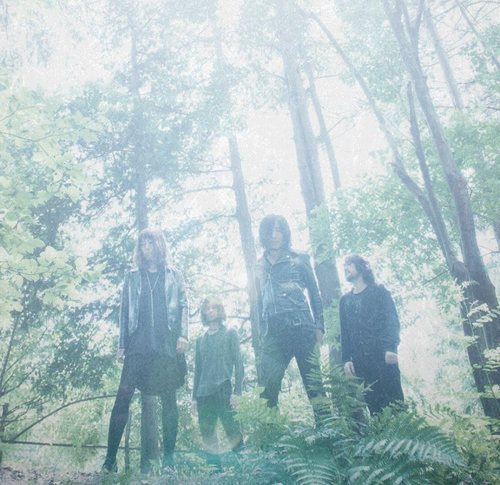 Mono
Speaking of melancholy, this will undoubtedly prove the place to be for all the sentimental nerds out there. The Japanese post-rock gods have persistently succeeded, throughout their career, in hitting all the right chords for the tears to come streaming out. While the most hyperactive might rue their lower energy levels, the sheer emotional intensity of their drawn-out epics should certainly prove enough to melt their little hearts. There's no better way to make the most out of Mono than to tap into your brain and let those feelings get Pied-Pipered out by their heart-breaking soundscapes. Closing what is expected to be one hell of a festival, there's a good chance the attendees will be in dire need of a therapy session, and it will be delivered unto them in a glorious, but nevertheless wistful, orgy of sensibility. (JBL)
Where and When: Arc Stage, Saturday.
ArcTanGent links: Website|Facebook|Twitter
Words by Ollie Connors and James Berclaz-Lewis.