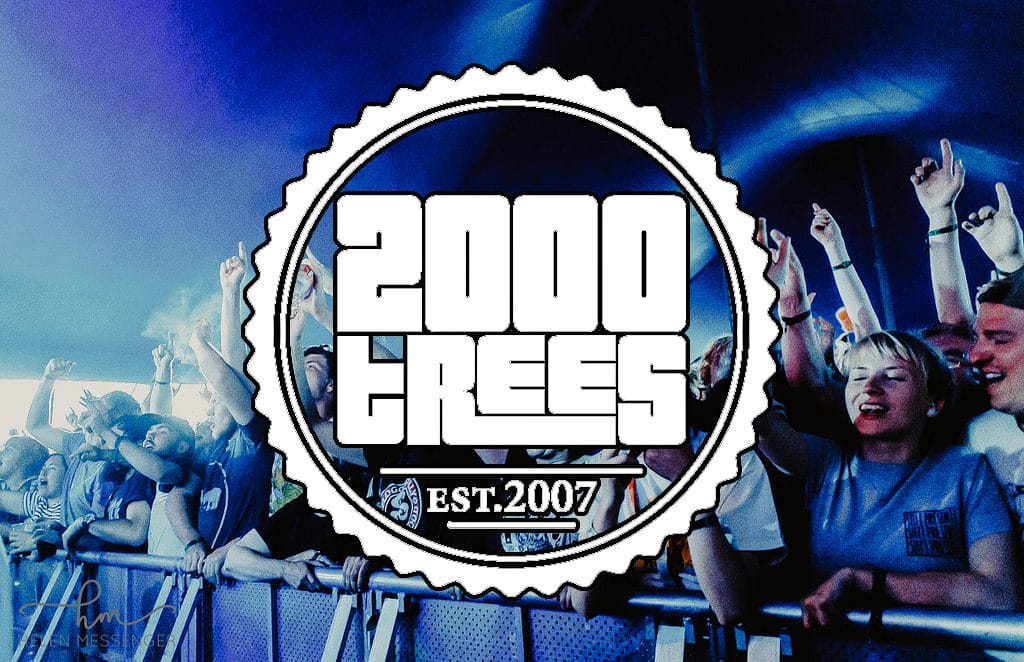 Over the past few years, the 2000trees Festival has become a highlight of the UK festival season. Its friendly, communitive environment alongside over 100 acts across three days is one of our favourite weekends of the year. So it's safe to say we're a bit excited to be returning to Upcote Farm later this week.
Nevertheless, with so many bands playing alongside late night activities such as the silent disco, karaoke and acoustic sets on the various campsite busking stages, 2000trees has all the makings to be a memorable festival.
As for the lineup itself, 2000trees always take great price in showcasing the best up-and-coming talent in UK alternative music. Joining headliners At The Drive In, Enter Shikari and Twin Atlantic are names such as Bad Sign, Palm Reader, Asylums, Gender Roles, Cove, Gloo and several others.  It's also set to play host to rising bands like Creeper, Black Peaks, Arcane Roots and Fatherson.
With a jam-packed lineup of stellar names across three days, We've picked out 18 bands must-see bands to catch this weekend.
---
Enter Shikari
This year's headliners are a band who endlessly strive to destroy genre conventions and re-invent their sound with every LP. Enter Shikari come armed with a back catalogue so musically divergent in sound all lyrically unified with messages of solidarity.
With the band now having graduated to arena status, it seems fitting for the Shikari boys to shut down Upcote Farm this year. Although the headline slot is set to be raucous, Enter Shikari are also taking to the Forest. Their delicate acoustic pieces will be a standout moment on the Saturday this year. (FRJ)
Where & When: Main Stage and The Forest Sessions Stage – Saturday
Black Peaks
Having been awarded our 'Record of the Year' in 2016, it's safe to say we've got high hopes for Black Peaks' followup. Nevertheless, as 'Home' and 'Can't Sleep' have shown us in recent months, we don't think we'll be disappointed. But we'll have to wait until October to see what 'All That Divides' has to bring.
In the meantime, the quartet are set to make it a hat-trick of appearances at 2000trees. With the festival playing a key part of Black Peaks' growth, it's only natural they make a visit to Upcote Farm ahead of the release of album number 2. Having enticed and impressed the masses with Will Gardner's versatile vocals and Joe Gosney's twisting guitar work, Black Peaks are sure to be as powerful and as riveting as always. And with a whole batch of new songs in their arsenal, they're more to be missed. (SR)
Where & When: The Cave – Thursday
Arcane Roots
Arcane Roots' return to Trees this year comes with a triumphant double instalment as they grace both the main and forest stage.
Their progressive catalogue possesses the cherished post-hardcore delights from 'Blood & Chemistry' matched with the triumphant hybrid of 'Melancholia Hymns,' making their sets vigorously enthralling. The same can be said ahead on their acoustic performance, in that their ability to elicit an array of emotions with such effectiveness is a testimonial to their diversity.
Having announced their forthcoming EP, 'Landslide' that's due to drop in September, their performances will be tasters of what's to come for one of the most dynamic trios on the scene. (FRJ)
Where & When: Main Stage and The Forest Sessions Stage – Thursday
Basement
Having played the festival two years ago and in the midst of promoting their third album, 'Promise Everything,' Basement's return to 2000trees is sure to mark the start of its long overdue follow-up.
Nevertheless, tours with Bring Me The Horizon and Frank Carter & The Rattlesnakes have benefitted the quintet, both on stage and by status. And while though we may or may not hear new material, Basement still have plenty of impressionable emotional alt-rock songs in their arsenal. Old favourites such as 'Covet,' 'Crickets Throw Their Voice,' and 'Aquasun' are sure to please the masses watching the main stage on Saturday. (SR)
Where & When: Main Stage – Saturday
The Xcerts
There are many bands and artists that always feel at home at 2000trees and The Xcerts are certainly one of them. Having become Upcote Farm regulars in recent years, the trio return to Trees as a main stage act. In the 12 months since their last outing, Murray Macleod, Jordan Smith and Tom Heron have appeared on the main stage at Reading & Leeds Festival, and released the addictive anthem-filled 'Hold On To Your Heart' record along with the usual UK/European tour runs.
As Murray told us May, The Xcerts are always welcomed at 2000trees and they're aiming to make sure this year is no different. With bold, catchy new songs such as 'Daydream,' 'First Kiss Feeling,' and 'Drive Me Wild' complimenting old cuts 'Kids on Drugs' and 'Slackerpop,' The Xcerts have all the ingredients for another memorable 2000trees outing. (SR)
Where & When: Main Stage – Saturday
Touché Amoré
It's been two years since Los Angeles post-hardcore band, Touché Amoré, delivered their stunning 'Stage Four' record. Having, presumably, finished that album cycle, TA have been on the European festival circle in recent weeks playing songs that go stretch far back into their discography. For example, 'Uppers/Downers,' 'Honest Sleep,' and 'Home Away From Here' have appeared on setlist. While their latest release, the standalone single 'Green,' has also been appeared on their set, marking the beginning of Touché Amoré's next chapter.
As part of The Cave stage lineup, expect to see a frantic, emotionally-charged set from TA with driving guitars, Elliot Babin's superb drum work and Jeremy Bolm's signature vocals. (SR)
Where & When: The Cave – Friday
Turnstile
Baltimore, MD's answer to the 90's hardcore revival, Turnstile are one of the bands to catch at Trees this year. Their blend of hardcore punk and alternative rock makes for an excellent gateway into the world of hardcore, while also providing some pure worship of such bands as Snapcase.
Offering up an energetic live show, the band will be performing songs from their latest album, 'Time & Space', which was released earlier this year. In amongst them will be old favourites like 'Death Grip' and 'Drop'. (BM)
Where & When: The Cave –  Thursday
Brutus
Since their almost festival-stealing set 12 months ago, Belgian trio Brutus have only visited to these shores a handful of times. Yet having supported Thrice and Russian Circles in recent months, its clear Brutus brand of explosive hardcore punk has been grabbing the attention of their peers.  Even Metallica's Lars Ulrich and Dillinger Escape Plan frontman Greg Puciato are fans of the three-piece.
Back by public demand (we're guessing), Brutus return to 2000trees with plenty of expectation. The combination of Stefanie Mannaerts' soaring vocals and hard-hitting percussion work, Stijn Vanhoegaerden's towering riffs and Peter Mulders' rumbling basslines has proven to be energetic and truly captivating, both live and on record. Last year's 'Burst' was one of 2017's hidden gems that people are still discovering now. And rightly so as Brutus are brimming with urgency, intensity and pulverising rawness. (SR)
Where & When: The Axiom – Thursday
Ho99o9
Gripping, erratic and dominating; merging hardcore and hip-hop is a hybrid that has been explored extensively, however, nobody does it quite like Ho99o9. The LA-based duo consisting of theOGM and Eaddy are internationally known for being unforgiving with their frankly volatile approach to both producing music and performance.
Originating in New Jersey, the two have generated a ferociously loyal following with their refreshing approach to industrial hip-hop. Their devilish performance in The Cave will be an onslaught of frenzied aggression matched with an equally eruptive crowd. (FRJ)
Where & When: The Cave – Saturday
Boston Manor
Currently one of the UK's hottest exports, Blackpool's Boston Manor are renowned for their fantastic live performances, as well as their hard work and commitment to the music they create. With their second album, 'Welcome to the Neighbourhood' on the horizon, the band are looking to move from strength to strength.
Expect to hear some new cuts from the second album, as well as several fan favourites from their debut, such as 'Laika' and 'Fossa'. Some fans of the band's pop-punk days may be fortunate enough to see the band re-tread their roots and play some older tracks from their EPs. (BM)
Where & When: The Cave – Thursday
Black Foxxes
With the release of their second LP, 'Reiði' pushing both thematic and creative boundaries, Black Foxxes are an authentic outfit who produce daring and poignant works. Lead, Mark Holley, has become an important vocal figure in the community, having been transparent when discussing mental health and touring with Crohn's disease.
Having been applauded on exploring darker messages that resonate, their live shows contain anthemic moments with impassioned delivery. Their ability to move even the largest of crowds will be a spectacle to behold on the main stage. (FRJ)
Where & When: Main Stage – Thursday
Press To MECO
After being a secret amongst the dozens of "Brit Rock" bands in recent years, Press To MECO are finally getting the praise they deserve.
This past spring they returned with 'Here's to the Fatigue,' a tight, infectious record that took all that was good about the Crawley trio and takes it up a notch. Big hooks, three-part harmonies, riffs and more is what Press To MECO will be serving us as they return to 2000trees.
Interestingly, they're also going to be taking an adventure into the Forest for an acoustic session. So that's double the amount of MECO. We're not complaining. (SR)
Where & When: The Axiom – Thursday / The Forest Sessions Stage – Friday
Hellions
Hellions' are a band that has definitely matured since their inception. From their early days of raucous hardcore punk, to their masterpiece of a third album, 'Opera Oblivia,' and now to the new, confident sound of tracks like 'X' and 'Furrow' which take away some of the youthful energy and replace it with some self-awareness and social commentary.
Effortlessly likeable, infinitely creative, and catchy as all hell, Hellions are a must-see for anyone attending 2000 Trees this year. (BM)
Where & When: The Cave – Friday
The Dirty Nil
Back in 2016, we instantly fell for The Dirty Nil's raucous brand of rock n' roll. Now as they prepare to release the follow up to 'Higher Power' in September, they're heading to 2000trees for the second year running.
Having shared the same stage as The Who and Against Me! since their last visit, The Dirty Nil will hopefully treat us to a preview of what to expect from 'Master Volume' this September. Recent single, 'Bathed In Light,' is a swaggering, stomping blast of punk-fuelled rock n'roll. Be prepared to be compelled by the Ontario's trio energetic presence and classic rock-esque strutting. (SR)
Where & When: Main Stage – Friday
Nervus
Over the course of two albums, Watford-based indie punks Nervus have crafted a set of infectious songs filled with plenty of lyrical substance. At their core is chief songwriter, Em Foster, who has used the band to be open about her issues and thoughts on gender dysphoria, and acceptance (or the lack of) in society.
As for their 2000trees appearance, they'll be kicking off the New stage on Friday morning. With jangly and riveting songs such as 'Sick Sad World,' 'It Follows,' and 'Bones' sure to be part of their set, you can't find a better way to start your day. Also, don't be surprised if you see Foster popping up at your campsite late at night, playing a few acoustic songs. (SR)
Where & When: The New Stage – Friday
Dream State
Having impressed at the Download Festival last month, Welsh wonders Dream State continue their charge to become the "next big thing". With a handful of festival spots, a brilliant EP in 'Recovery,' and a Best Breakthrough Kerrang! award under their belt, they're certainly heading in the right direction.
Fronted by CJ Gilpin, the quintet's roaring mix of poppy hooks and melodic hardcore backs up any hype Dream State have been on the receiving end. In CJ, they have a versatile vocalist who opens herself lyrically and with conviction. Backed up by a heavier-than-expected sound, Dream State compliment Gilpin with metallic riffs and smashing percussion, creating a set of bangers that are bound to win over the 2000trees crowd. (SR)
Where & When: The Axiom – Saturday
Soeur
Soeur are furiously building in momentum with their dual-fronted force and pop fuelled grunge. The Bristol-based outfit have supported the likes of Demob Happy whilst raking up the festival slots, where they are being heralded as an outfit that showcases storming live sets that are punchy whilst oozing mathy grit.
With this being said, Soeur will be taking to the Forest this year, where their colossal sound will be stripped back with a set to be a true treat. (FRJ)
Where & When: The Forest Sessions Stage – Thursday
Swedish Death Candy
Snarling riffs laced with fuzzy psych-rock, Swedish Death Candy are an outfit whose sound far outgrows their beginnings with a gloriously established bite. Their self-titled debut album boats 60's infused rock likening to Sabbath with a contemporary feel. They are an international collective based in London, where their sets are known to evolve from psychedelic escapism to hefty progression.
Swedish Death Candy's presence at The Axiom is a welcomed addition to the Trees bill for a taste of something different to the expected sound. (FRJ)
Where & When: The Axiom – Saturday
---

Spotify | Apple Music | YouTube | Deezer
---
2000trees Festival 2018 takes place at Cotswold Hills, Upcote Farm, near Cheltenham from Thursday, 12th July to Saturday, 14th July.
2000trees Festival links: Website | Facebook | Twitter | Instagram
Tickets are available here. You can find the official clashfinder here.
Details of Under The Bridge's late night sessions can be found here.
---
Words by Sêan Reid (SR), Ben Mills (BM), and Ffion Riordan-Jones (FRJ)