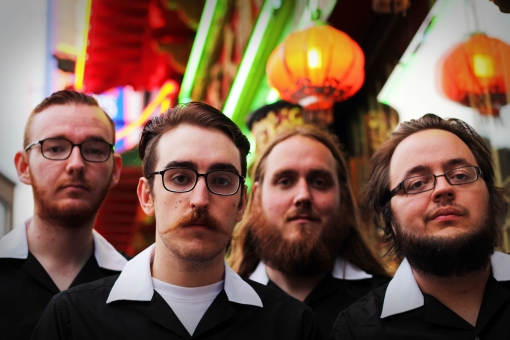 Next month Worcester self-proclaimed "geekcore" band Fights and Fires release their second album, 'We Could All Be Dead Tomorrow.' The Rock and Roll inspired hardcore quartet take their classic rock influences, and mix it up with contemporary hardcore. The end result is a record that is bound to win over fans of the likes of The Bronx and The Ghost Of A Thousand.
We recently caught up with vocalist and former Pro Wrestler trainee Phil Cox for our latest edition of "If I…" Phil told us why he'd want to play with Andrew WK, which legendary metal bassist he'd like to play with and much more.
If your band would like to be featured as part of "If I…" full details can be found here.
If I could re-record one song it would be…
Phil: We recorded a song ages ago called 'Coming Of Age.' I always really liked the song in a live setting but on record it sounded too polished, so sadly it went to the way side and only ever got released on our Bandcamp page, as a free single.
If I could re-live one tour/show it would be…
Phil: Last summer we got to play Biubstock Festival in Switzerland, sharing a stage with two of our favorite bands, Every Time I Die and The Bouncing Souls. The stage was really busy when we played and it was an amazing atmosphere. Afterwards, we drank and played baseball with fruit with our good friends from France, Uncommon Men From Mars, so a perfect day all round.
If I had the chance to play one venue it would be…
Phil: In our home town of Worcester, growing up, we used to have this little sweat pit of a room at an old mans pub that we called 'The Void.' Some of the best shows I have attended happened in that little room. I would love to bring it back for one night only and play that place again with Fights And Fires.
If I could play with one band it would be…
Phil: Andrew WK, just for the after show party.
If I could play with any person living or dead it would be…
Phil: Hands down, Lemmy! Motorhead are a big influence on us and Lemmy is God.
If I could bring back any band that have split up, it would be…
Phil: A few years ago this question would have been easy – Refused. Now I would probably have to go left-field and choose my favorite hip hop group of all time, Jurassic 5.
If I wasn't playing music, I would be…
Phil: A Pro Wrestler. I was actually midway through my training when the music bug hit me and I decided to start taking bands seriously.
If I could play a different genre it would be…
Phil: I really like the American indie/emo stuff from the 90's so I would love to be in a band with a vibe like The Get Up Kids and The Promise Ring.
If I could have written any song it would be…
Phil: The Boys Are Back In Town by Thin Lizzy. Not only is it a great song musically, its also impossible to hear that song and not feel like its party time.
If I could have written any album it would be…
Phil: From a Vocalist / Lyricists point of view, I would have to say Brother Sister by MeWithoutYou. The passion, imagery and song content is just above and beyond anything else I have ever listened to.
If I could headline any festival, it would be…
Phil: The first festival I attended was Reading Festival, so I would have to go with that. It would be a great feeling to play something that you loved attending whilst growing up.
If I could organise my own festival, the bands playing would be…
Phil: Headliners would be Pearl Jam, Foo Fighters and The Cure, then add bands like The Hives, The Bronx, Rocket From The Crypt and I would be a happy man.
If I could play any other instrument, it would be…
Phil: I would love to play the piano, its just a beautiful instrument. It's a massive part of a lot the singer songwriters I enjoy listen too's sound.
If I could give one piece of advice to a new band, it would be…
Phil: Play every show you can, no matter the drive or if you have work/college the next day. You improve so much more playing live than you do in a practice room and its more fun and that's what its all about!
'We Could All Be Dead Tomorrow' by Fights and Fires is released on 4th March through BlackstarFoundation.
March
5th Eastney Cellars, Portsmouth
6th Talking Heads, Southampton
7th Soundhouse, Leicester
8th Sanctuary, Basingstoke
9th Shades, Bridlington
Fights and Fires links: Official Website|Facebook|Twitter|Bandcamp