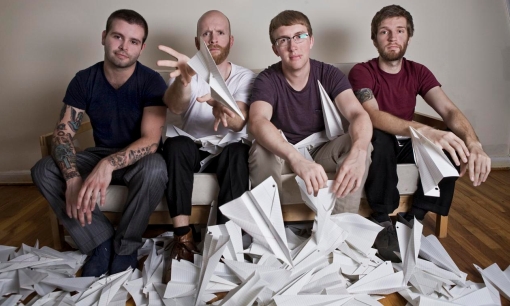 Following the release of their phenomenal début album 'Colorado' last week, Greensboro, North Carolina's Unifier are the subject on this edition of "If I…".
'Colorado' is a record that offers pop-rock hooks with occasional moody lyrics thrown in and sees the quartet not afraid to push their boundaries, as the end result is a layered, dynamic album that is a must-hear.
Vocalist and guitarist Aslan Freeman recently spoke to Already Heard to take part in our "If I…" questionnaire. Aslan told us who'd play his diverse fantasy festival line-up,  how important communication is in the music business, his love for Brand New's 'The Devil & God Are Raging Inside Me' and more.
If I could re-record one song it would be…
Aslan: One of the many songs we wrote for our new album, 'Colorado', was called 'Archers Fade'. In the end it didn't make the cut, so we only have an old demo recording of it. Even though I still don't think it would've been the right fit for the album overall, after hearing how great everything on the record turned out I'd love to hear it re-done with higher quality.
If I could re-live one tour/show it would be…
Aslan: This past fall after we got back from recording in New Jersey, the first big show we played back in our hometown (Greensboro, NC) was incredible. House of Fools, local heroes of mine, headlined the show and we were the direct support. On top of that, some great friends of ours in Sugar Glyder played, along with an awesome band from Raleigh I had been wanting to check out called American Aquarium. We all sat in the green room and had a Street Fighter II tournament waiting for doors to open (which our drummer Mike won), I traded some guest vocals with Josh from House of Fools, and the crowd was wonderful.
If I had the chance to play one venue it would be…
Aslan: I'm going to shoot big and say Red Rocks Amphitheatre in Colorado. Partly because it's in Colorado and that seems fitting, partly because I used to watch the Dave Matthews Band live at Red Rocks DVD with my neighbour all the time growing up, and partly because it's just a gorgeous venue.
<a href="http://unifierband.bandcamp.com/album/colorado" data-mce-href="http://unifierband.bandcamp.com/album/colorado">Colorado by Unifier</a>
If I could play with one band it would be…
Aslan: I have to go with Brand New on this one. Even though I've seen them a few times already and have been dying to see Foo Fighters or Jimmy Eat World again, they are without doubt my favourite band and I just love the vibe of their shows. It seems like a somewhat realistic goal for us, and I think we'd go over pretty well with their usual crowd. Foo Fighters would mean we'd be playing an arena which is a pretty daunting idea at this point, and Jimmy Eat World is way too good live, they'd make us look bad.
If I could play with any person living or dead it would be…
Aslan: Playing a show with Springsteen and the E-Street Band would be amazing. I'm a little too young to have been able to go see him in his prime, but I'd love to experience that energy he puts out up close, even if I was just up there playing tambourine and doing the Clarence Clemons dance.
If I could bring back any band that have split up, it would be…
Aslan: There's tons of bands I missed my chance to see live that I'd love to do a reunion, but I think right now I would pick Acceptance. The only record they put out ('Phantoms') has some of the most well written and produced pop rock songs on it I've ever heard. I'd really love to hear another LP from them and see where they'd go next.
If I wasn't playing music, I would be…
Aslan: Recording and producing music, which is what I do in my spare time anyway. If that doesn't count, then running live sound or booking and managing bands – most likely still something involving music. Although, now that I think about it, I actually used to be an okay actor when I was younger. From when I was 4 until I was around 16, I spent a lot of time on stage in plays or doing improv, rather than music. So maybe that, I'm determined to never make any money.
If I could play a different genre it would be…
Aslan: Definitely something electronic. I'd miss the live energy too much to do any sort of mellower music, and I'm sort of over the hardcore and metal scenes at the moment. If I were to do something heavier, it would have to be along the lines of the last Underoath record, or something like Deftones, both of which incorporate some electronic elements. I also really enjoy dark electronic music like Crosses (Chino from Deftones' side project with one of the guys from Far) and synth heavy stuff like M83, and I think the live element would still be fulfilling with either of those. If all else fails I'll just start trying to make dance music.
If I could have written any song it would be…
Aslan: My first instinct was to say 'Somebody That I Used To Know.' That song is just about as perfect as it gets. The downside is that nobody can write more than one song that good, so his career is pretty much all downhill from there. So instead I'm going to go with 'Thriller.' Awesome song, awesome video, #1 forever, and MJ probably made some decent money from it before Paul McCartney snuck off with the rights.
If I could have written any album it would be…
Aslan: 'The Devil & God Are Raging Inside Me' by Brand New. It is without doubt my favourite album when judged in pretty much any way. The songwriting is very unique but still catchy and sensible, the engineering and production sound fantastic, the lyrics are dark, intricate and heartfelt, and every part of the album is so layered and well arranged that I hear something new every time I listen to it.
If I could headline any festival, it would be…
Aslan: Right now I'd go with Soundwave, in Australia. I studied abroad in New Zealand for 6 months in college and have been dying to get back to that part of the world.
If I could organise my own festival, the bands playing would be…
Aslan: I'd love to make it as diverse as possible. I think people are becoming less and less reserved about dipping into different genres, and also more quickly bored with listening to the same style for an entire day or evening. In no particular order, the highlights would be: Two Door Cinema Club, The Menzingers, Foo Fighters, Kanye West, Deadmau5, M83, Ludacris, Dave Matthews Band, Katy Perry, Deftones, Jimmy Eat World, The Killers, Lady Gaga, Minus The Bear, Propagandhi, Paramore, Radiohead, Brand New, The Punch Brothers, Kimbra, Bruno Mars, Weezer, Coldplay and Nine Inch Nails.
If I could play any other instrument, it would be…
Aslan: Cello. It's probably the most versatile and tonally pleasing instrument to me.
If I could give one piece of advice to a new band, it would be…
Aslan: Check, answer and return your e-mails/texts/calls! Frequently and quickly! There is nothing I hate more about the music business or any individual music scene than the complete lack of communication skills and general courtesy most people seem to have. I'm not saying we don't do it too on occasion, people get busy and forget, stuff falls through the cracks, it's understandable. But when we send out 50 e-mails to different bands/venues/blogs/whatever and only get 5-10 responses, something is wrong.
It's okay if you don't want to take the time to check out some music, or give feedback, or if you just don't care at all, but send an e-mail back that just says "no" and everybody will be way happier. Oh, and proofread everything as well. In this day and age, your first impression on someone is often going to be your typing, so try not to come off like an uneducated moron. There's plenty of time for slang, numbers and the letter 'u' after you get to know someone. People are way more likely to take you seriously, respond, and like your band/you as a person if u know how 2 use you're grammar.
'Colorado' by Unifier is out now on Autumn and Colour Records and Round Kid Records.