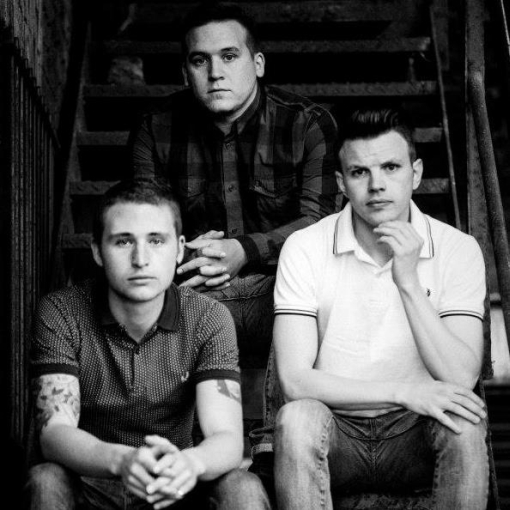 This week Cumbria punk band Colt 45 begin a UK tour alongside Electric River and The Hostiles, and they just so happen to be the band in question for this edition of "If I…".
Their latest single, 'Happiness Is a Dying Art' and recent EP, 'Inside The Triangle' mix the bands punk angst with melancholy lyrics that has led the band to be praised in many circles and been labelled as one to watch by many.
We caught up with drummer Adam Lewis to take part in our "If I…" feature. Adam told us which Philadelphia punk band he'd like to tour with, which Stereophonics song he wish he had wrote, and much more.
If your band would like to be featured as part of "If I…" full details can be found here.
If I could re-record one song it would be…
Adam Lewis: 'Shit Happens' from our first EP. I'd only been with the lads a few weeks when we went and tracked it with Romesh, we do it much better nowadays.
If I could re-live one tour/show it would be…
AL: Our EP launch night for 'Inside The Triangle' back in October, it was just amazing to pick a bill of our friends and fill our local venue with people there supporting local bands. It was easily my proudest moment so far in Colt 45.
If I had the chance to play one venue it would be…
AL: Royal Albert Hall, London – my Dad used to take me there when I was younger to see all sorts of stuff. It's somewhere I've always wanted to perform just because it was one of the first places I remember seeing live music.
If I could play with one band it would be…
AL: Shit, that's hard. If Colt 45 could support anyone right now I'd have to say The Menzingers, just because we all absolutely love their albums and always rock out to them in the van. If I could have been in any other band it would have been Led Zeppelin, I'd have enjoyed that.
If I could play with any person living or dead it would be…
AL: Probably Justin Chancellor, bassist in Tool. We'd have some sick drum n bass jams.
If I could bring back any band that have split up, it would be…
AL: See this time last year I'd have said At The Drive-In. This time last week I'd have said Black Flag – but you just never know nowadays when the most unlikely of reunions is gonna happen. I loved a band called thisGIRL who released a couple of albums on Lockjaw about 10 years ago. I'd love to go and watch them again.
If I wasn't playing music, I would be…
AL: A better journalist.
If I could play a different genre it would be…
AL: Something really heavy with a lot of blues, garage and psych in the mix. I'd love to have a bash at some live drum n' bass one day as well.
If I could have written any song it would be…
AL: 'Traffic' from Stereophonics first album, 'Word Gets Around' in 1997. I always listen to it when I'm pissed off – so that's usually a good few times a week! Their first two albums were fucking great, we all like them a lot. The rest of it's pish though.
If I could have written any album it would be…
AL: 'De-loused in the Comatorium' by The Mars Volta.
If I could headline any festival, it would be…
AL: Vans Warped Tour with Colt 45.
If I could organise my own festival, the bands playing would be…
AL: Colt 45, The Roughneck Riot, Menzingers, Gaslight Anthem, Alkaline Trio, Hot Water Music, My Vitriol, Johnny Cash, Manic Street Preachers, Brand New, Miami Sound Machine, Michael Jackson, The Police, Biffy Clyro, Idlewild, Hundred Reasons, Glassjaw, Ojos de Brujo, Million Dead, Fugazi and loads of local bands from Cumbria in between all the others. It'd be an interesting weekend.
If I could play any other instrument, it would be…
AL: Piano, I wish my parents had forced me. Instead they got deafened by drums and guitars!
If I could give one piece of advice to a new band, it would be…
AL: Don't expect anything to 'just happen.' It's so important to rehearse properly and regularly, focus on what you're writing and how you're playing. Go and play as many gigs as possible anywhere that will have you, even if it's for no money and there's nobody there. Keep doing it. Get a solid social media campaign going, but don't overdo it, people generally have very short attention spans…make sure whatever you give them is as instanty memorable as you can make it. Make friends with other bands, go and watch other bands, and be friendly to everybody – even the sound techs and promoters and guys in other bands you might think are bell ends, cos you never know where the next decent gig might come from.
"Big Cheese Magazine Presents" 2013 UK Tour:
February
21st Glasgow – Walkabout
22nd Edinburgh – Wee Red Bar
23rd Carlisle – Brickyard
24th Manchester – Gullivers (Punk Rock All Dayer)
March
2nd London – Camden Barfly
3rd Canterbury – Beercart Arms