After kicking off our new 'Fives' feature last week with the five best 'Punk Goes Pop' songs, this week's edition sees Already Heard's Ollie Connors picks out the five best songs from Buffalo noise-merchants Every Time I Die.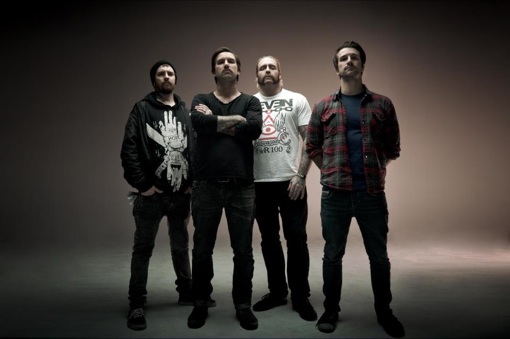 As 'High Fidelity' is one of my favourite books, cataloguing things in a Top 5 is a novel thing to me. I've also now just had a strange image of John Cusack's character from the film moshing at an Every Time I Die show in his "Cosby sweater"… Anyway, to celebrate the Buffalo, NY five-piece's recent UK jaunt, supported by Last Witness and Stray From The Path, this is Every Time I Die's big 5 songs, the ones your iPod can feel naked and ashamed without.
'Kill The Music' (from 'Gutter Phenomenon')
One of ETID's many songs benefitting from a guest vocalist (see also 'Champing At The Bit' from the same album, featuring Glassjaw's Daryl Palumbo, and 'The Marvellous Slut' from 'New Junk Aesthetic'), this one, in a fairly leftfield choice considering the difference between the two bands, features My Chemical Romance vocalist Gerard Way. It features many of ETID's much-loved hallmarks – massive, filthy hooks and vocalist Keith Buckley's massive range, which really came into its own on this album (their third). Way is at his 'Three Cheers…'-era best, and these two unique voices intertwine wonderfully on this cut.
'Underwater Bimbos From Outer Space' (from 'Ex Lives')
The opening track off this year's astonishing record 'Ex-Lives', this one belongs up there with the greats already, if only for the title. When it commenced their set at the Camden Electric Ballroom date of the 2011 Rock Sound Riot tour, its refrain of "I WANNA BE DEAD WITH MY FRIENDS" gained instant approval amongst all present, and set the tone for what went on to be an incredible showing from Every Time I Die.
'The New Black' (from 'Gutter Phenomenon')
Purely for singalong value, this one, from 'Gutter Phenomenon', couldn't possibly be missed from a top 5. Featuring in the immensely popular "Guitar Hero II", this features a humongous solo, inbetween Keith Buckley's incredibly clever lyrical turns; metaphor lays over metaphor in this satirical deconstruction of the celebrity lifestyle.
'We'rewolf' (from 'The Big Dirty')
From the cowbell count-in onwards, this is the stuff of ETID party-metal nirvana. An absolute beast of a track, the refrain of "WHICH ONE OF YOU SONS OF BITCHES, IS GONNA MAKE ME FEEL ALIVE, WHICH ONE OF YOU MOTHERFUCKERS, IS GONNA GET INSIDE MY HEART?" (you may note all their lyrics are appearing solely in Caps Lock – there is simply no other way to express them) doesn't retire easily from your head. A typical Southern-fried titanic riff lays at the centrepiece of this song – a live favourite that really gets the party started and bodies moving with total abandon.
'Ebolarama' (from 'Hot Damn!')
Starting with a choppy opening riff, this is simply the greatest moment of Every Time I Die's 14-year career, featuring on second album 'Hot Damn!'. Flawlessly switching between croon and trademark hoarse yell, Buckley simply has us lapping out of his hand for this one, especially at the point of its red-blooded clarion call at its climax ("THIS IS A ROCK AND ROLL TAKE OVER" onwards). Its video featuring the band playing amidst a roller-derby was the one that first drew my attention to the band, and it simply hasn't been bettered since. Chaotic metalcore heaven.
And the one that definitely doesn't belong here… 'Bored Stiff'. Why this one continually gets rolled out live at the expense of better songs, I will never know. A 2-minute thrash, it simply remains a fan favourite because it mentions the "C" word. Oh, tee hee. Grow up, get over it.
So there you have it – a summary of Every Time I Die's best moments. Don't just take my word for it though, get this band in your ears. You will not regret it for a second.
Every Time I Die links: Website|Facebook|Twitter
Words by Ollie Connors (@olliexcore)