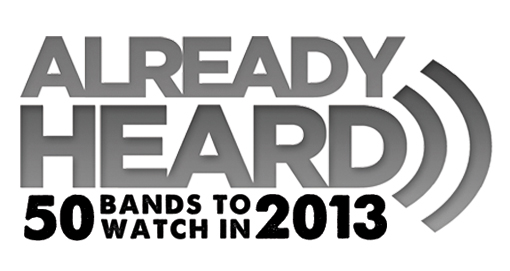 Happy New Year! We're really excited about 2013 here at Already Heard. We think it's going to be another excellent year with new albums, new releases, awesome tours, amazing festivals and a whole lot more.
Over the next 12 months you'll see countless bands and artists mentioned on this very site, but we thought we'd give you a sneak preview by giving you a run down of 50 bands we think you need to know about over the coming months. The list is filled with familiar names as exciting new bands that we're predicting big things for in 2013.
What bands and releases are you looking forward to in 2013? Let us know on Facebook or Twitter.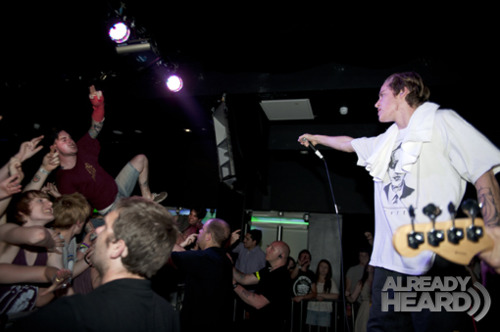 The Story So Far
If there was one band who ruled the Pop Punk roost in 2011, it was Walnut Creek's The Story So Far. After a hat-trick of successful trips to the UK, 2013 will see the band returning once again for their first full run of headline shows, and with Gnarwolves and The American Scene supporting it's an early contender for tour of the year. Not only are TSSF coming back to the UK, their highly anticipated follow up to 2011's 'Under Soil and Dirt' is set to see the light of day. Produced once again by Sam Pura, TSSF have also brought New Found Glory's Steve Klein on board to produce. 2013 could be the year The Story So Far solidify their place as Pop Punk legends. (SR)
Frank Turner
Sell out Wembley Arena, perform at the Olympic Opening Ceremony, launch a hardcore band and tour the UK and US; just another extraordinary year for Frank Turner then. Sure 2012 was fantastic for everyone's favourite folk-punk lyricist but expect to see Turner's worth rise in 2013. With a new album set to be released in the Spring, expect to hear more of Turner's honest, sincere but energetic sound on both sides of the Atlantic throughout the year. (SR) Facebook|Twitter
Real Friends
Chicago's Real Friends created a buzz in certain circles throughout 2012, and we've got high hopes for the Pop Punk group in 2013. With comparisons to bands like The Wonder Years, Real Friends have a vibrant, near-perfect Pop Punk sound that has seen their name spread like wildfire with no label support at all. With three EP's released in 2012, the quintet are rumoured to be working on a new "solid" EP that is said to be 6 to 7 songs. If they keep on delivering tracks like 'Floorboards' and 'Home For Fall' then this pizza-loving band could go far. (SR)
Facebook|Twitter|Bandcamp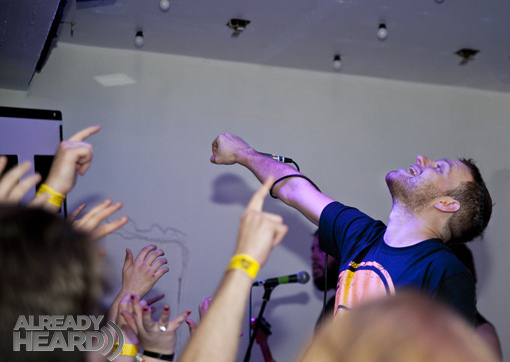 The Wonder Years
Pop-punk heavyweights The Wonder Years look to be ramping up for another big year in 2013. With the follow up to 2011's masterful 'Suburbia I've Given You All And Now I'm Nothing' slated for a summer release and 'Sleeping on Trash: A Collection of Songs Recorded 2005-2010' out in February there should be plenty for people to get excited about when the band return to the UK for Slam Dunk in May. Expect a raucous live show and a sense of honesty you won't find anywhere else right now. If you're already late to The Wonder Years party get there now. You're not fashionably late; you're missing the explosion of a deserving Pop Punk behemoth. (TK)
Official Website|Facebook|Twitter
Lemuria
At the beginning of December Lemuria hit the studio to start work recording the follow up to 2011's wonderful Bridge Nine début 'Pebble.' With this as yet untitled third album due to be complete by February and an army of fans salivating at the very prospect of its release, 2013 could prove to be another big year for the Buffalo trio. If the band can produce an album even close to the quality of its predecessor, then 2013 could well be the year that sees Lemuria move from their position as cult heroes into the limelight they deserve. Here's hoping the new album brings them back to the UK sooner rather than later. (TK)
Official Website|Facebook|Twitter
Gnarwolves
Gnarwolves have gone from strength to strength over the last year or so. Moving from the realm of south coast nobodies to kings of the UK scene in the blink of an eye. One minute, people were murmuring about 'Fun Club', the next 'CRU' was everywhere, Gnarwolves were playing everywhere, and, thanks to the fantastically catchy music band produce, the six-track masterpiece was firmly fixed in everyone's mind. Already planned for next year is the re-release of 'Fun Club' on a double 7' including a four covers and a considerable UK stint with US Pop Punk heavyweights The Story So Far. If things continue along their current trajectory no one will escape 2013 without knowing all the words to any given Gnarwolves song. (TK)
Facebook|Bandcamp
Idle Class
German punks Idle Class will be ones to watch over the next twelve months. Signed up by Black Star Foundation in 2012, the five-piece made their mark with an incredible six track début record, 'Stumbling Home.' They've already played shows with the likes of Less Than Jake, The Menzingers, and Apologies, I Have None and have a considerable collection of big shows on the horizon. With these shows, incredibly positive press, and a DIY sense of fearlessness in the face of hard work (every single copy of their absolutely beautiful début was produced by the band themselves,) it shouldn't be too long before we see these boys tearing things up on this side of the channel. (TK)
Facebook
Touché Amoré
Fresh from months on the road including a recent stint with the band's self-proclaimed heroes Converge, Touché Amoré seem to have ran out of places to play and new bands to play with. Without a doubt one of the leading lights in post-hardcore, it's difficult to imagine a band producing music of the same calibre – often heavy, always honest, never boring. Touché Amoré's last offering, the magnificent 'Parting the Sea Between Brightness and Me' dropped in June 2011 and the fans are eager for more. Having previewed new material on the road in 2012 and with few shows planned so far in 2013, it's likely we'll be seeing news of a new Touché Amoré record soon before they inevitably head back out for another global round of shows. (TK)
Official Website|Facebook|Twitter
Transit
2011's 'Listen and Forgive' saw Boston's Transit go from strength to strength, fully establishing the band as an integral member of the Pop Punk/Emo scene. The band recently completed work on their so far untitled fourth studio album, with a release expected on Rise Records in the New Year. With so many eyes focused on Transit and so many ears eager to hear the band's next offering, the pressure is on for this five piece. Does Already Heard doubt their ability to keep up with the rest of the big guns? Not for a second. hard touring maestros that they are, Transit will continue to cause a stir over the coming months and hopefully, that will bring them back to the UK. (TK)
Official Website|Facebook|Twitter
Tigers Jaw
Tigers Jaw are a band who seem to be almost universally adored, a perfect combination of gorgeous melody and lyrics that could break the devil's heart. Unfortunately it has been far too long since their last release – over two years since their last full length and the world that knows is getting desperate. If Tigers Jaw can produce another album even half as beautiful as that they have so far, and if they can continue playing shows to ecstatic crowds, receiving great praise in the press, then Tigers Jaw won't be going anywhere but up over the coming year. (TK)
Facebook
And So I Watch You from Afar
Following up 2011's 'Gangs' seems like an impossible challenge to undertake but after Northern Irish instrumental geniuses And So I Watch You from Afar released 'Like a Mouse', us at Already Heard have our eyes locked on the band's upcoming third full length 'All Hail Bright Futures' on the 15 March; this is the first release on L.A. label Sargent House Records (Rx Bandits, This Town Needs Guns). With an upcoming UK/European tour to coincide with their album release, ASIWYFA will no doubt make even bolder foundations for their reputation as a technical powerhouse of wizardry. (AL)
Facebook|Twitter|Bandcamp
MINE
Featuring current and former members from Hang the Bastard, Centurions Ghost and A Long Time Dead, MINE from London completely blew our imaginations with their recently released self-titled EP. The band's formula breathes fresh life into their metal and hardcore roots with an eclectic mix of psychedelic gaze and ambiance, layered with a grunge like undertone. Having done a handful of shows in 2012 with the likes of Bastions, Birds in Row, and Pariso, and a follow up record in the works, MINE will certainly go from a tremor to an earthquake across the UK music scene in 2013. (AL)
Facebook|Twitter|Bandcamp
Crash of Rhinos
It's been over a year and a half since Derby five piece Crash of Rhinos released their understated double LP 'Distal', a heart-warming piece of art that borderlines a solemn loudness, owing a lot of debt to the noodley math rock of 90's Emo. Since then they've been touring to the bone across the European continent and have built themselves a loyal but nimble following. Kicking this year off with their upcoming tour with Italian screamo band Raein, there is a chance that some new material will surface; regardless the band's heart yearning melodies are a sound to listen out for this year. (AL)
Facebook|Twitter|Bandcamp
A Wilhelm Scream
The wait is officially over! Three years after their last record, and a drudging six years after their phenomenal full length 'Career Suicide', progressive riffing skate punks A Wilhelm Scream are finally releasing a new full length in the spring of 2013 on the legendary No Idea Records. Towards the latter half of 2012, the band has taunted our taste buds with new song 'Boat Builders' both on record and in the live atmosphere, a song which show cases further expansion and grip on melody and technical proficiency. If this is the appetiser, then the main course will be worth every delicious bite. (AL)
Facebook|Twitter
Defeater
Whilst 2012 saw melodic hardcore punk's Defeater end their touring cycle of their storytelling masterpiece, 2011's 'Empty Days & Sleepless Nights', 2013 will see the band's rise reach unfathomable heights as they release another record on Bridge Nine, continuing the concept around a broken working class family in the Jersey Shore area during the post-WW2 period. One can only imagine what will come out of the writing and recording process, both musically and lyrically as it treats both elements with a grey human honesty, a talent that few bands can muster in this day and age. (AL)
Facebook|Twitter
Vales
After a year involving legal issues, the release of an incredible record and setting their live presence in stone across the continent, Cornish screamo/hardcore quartet Vales are ready to show their worth in 2013 as they record their début full length in February, due for release in the summer on American label 6131 Records; this will be accompanied by a US tour and a mysterious road ahead that will no doubt see the band earn the merits they wholeheartedly deserve. If you don't believe us, then feel the shaking hands we have when we tell you of how phenomenal the band were at Hevy Festival last summer. (AL)
Facebook|Twitter|Bandcamp
Paramore
If there's one band who have alot to prove this year it's Paramore. In the last two years the band has lost two founding members (Zac and Josh Farro) and finally spoken openly about their true origins, leaving fans worried about the future of the band. But not to worry as the remaining three members have recently finished the recording of their self titled fourth album. Recruiting Justin Meldal-Johnsen to produce the new album the band has opened up musically and made an album including synths, a gospel choir and a string octet. 2013 will be the year Paramore either prove to the world their worth sticking around for or slowly fade into darkness with an overhyped alternative new album.
Official Website|Facebook|Twitter
A Day To Remember
Described as one of the heaviest pop punk bands, Florida's ADTR are set to release their fifth studio album 'Common Courtesy'. Mixing the heavy breakdowns of the metalcore scene and the catchy melodic riffs of pop punk the band knows how to make a heavy catchy song. With the first song off the new album 'Violence (Enough is Enough)' currently released on thei official website it showcases perfectly both the heavy and melodic side of the band. No doubt the band will tour the US, UK and Europe numerous times next year and maybe they'll live up to their own lyrics of "mark my words were taking over the world". (AW)
Official Website|Facebook|Twitter
letlive.
The problem with having a critically acclaimed album and one of the music scenes most energetic, emotionally driven and at times outrageous frontmen is that letlive. have alot to live up to. Having signed to the prestigious Punk label Epitaph, gaining the respect of critics and fans around the world from their impressive live shows, the band are set for a great 2013. And if the bands new music is anything like their last album 'Fake History' then you can expect something heavy and chaotic yet beautifully crafted. (AW)
Official Website|Facebook|Twitter
30 Seconds To Mars
Having announced to have been on a hiatus, after only a year off the 30 Seconds To Mars guys have announced they are recording album number four and is set to be released this year. If the band's music is anything to go by, the new album will have plenty of atmospheric, stadium-sized anthemic songs. Of course a band with a Guinness World Record to their name for having played three hundred shows in two years, you can expect to see the band hit the UK numerous times next year.(AW)
Official Website|Facebook|Twitter
Bring Me The Horizon
For a band who released one of the scenes heaviest in 2010 ('There Is a Hell, Believe Me I've Seen It. There Is a Heaven Let's Keep It a Secret,') the expectations for album number four from the Sheffield band is certainly high. The new album titled 'Sempiternal' has been recorded by the legendary producer Terry Date (Deftones) and is described to be heavily influenced by electronic music and a mixture of the past three albums, creating a whole new sound. From the reaction of the crowd at the UK leg Warped Tour this past November where the band aired a new song live, it shows that the new album will definitely hit all the right chords next year. (AW)
Official Website|Facebook|Twitter
Alkaline Trio
If there's one band who have had a long and influential career in the punk scene it would be Alkaline Trio. The doom and gloom punks have recently finished the recording of their ninth studio album with Descendants drummer Bill Stevenson. Set to be released this year you can expect the usual themes from the band with songs about death, blood and the darker side of life. Add of course the fast Punk Rock guitar work and the alternating coarse and sweet vocals from Matt Skiba and Dan Adriano and you've got what could be a great punk rock record. (AW)
Official Website|Facebook|Twitter
Queens of the Stone Age
California rockers Queens of the Stone Age are a band that is accessible to people in many different music genres, fans of metal, rock, indie and alternative music all listen to QOTSA. Just like the bands 2002 release 'Songs For The Deaf' it sees the return of Dave Grohl on drums and with the added guest appearances from Nine Inch Nails's Trent Reznor and ex-bassist Nick Oliveri, it will turn out to be an interesting album. Of course expect to see the band plenty of times next year  including the prestigious Download Festival. (AW)
Official Website|Facebook
Moose Blood
You may not familiar with the name Moose Blood but don't worry you'll be hearing a lot about this Canterbury band in the coming months, especially if their début EP ('Moving Home') is anything to go by. With songs about girls, coffee, and pop culture references, Moose Blood's sound has been compared to early Brand New with a hint of Weezer, Title Fight and Tigers Jaw; jangly Emo/Pop Punk with plenty of nostalgia and sentiment. Tracks like 'Bukowski' and 'Evening Coffee' have already been causing a stir online and we can guarantee you won't be disappointed by 'Moving Home'. (SR)
Facebook|Twitter|Bandcamp
Neck Deep
Back in June of 2012, South Wales Pop Punk band Neck Deep were complete unknowns, then they signed to small Boston, MA label We Are Triumphant Records and released their début EP – 'Rain In July'. For the rest of 2012, Neck Deep's name and reputation grew and with good reason as 'Rain In July' is a confident, energetic heavy Pop Punk release that backs up any hype. Having end 2012 on a high with their first ever shows taking place, 'Rain In July' being pressed on vinyl (Hang Tight Records) and cassette (Pinky Swear Records) and to top it off they've recently been signed up by the same management company who look after Your Demise and Brutality Will Prevail. In other words expect to hear a lot more about Neck Deep over the next 12 months and get to know the words to songs like 'A Part of Me.' (SR)
Facebook|Twitter
Nai Harvest
If you regularly read our "Something For The Weekend" feature, then you'll be aware of Sheffield Emo duo Nai Harvest. Last year's 'Feeling Better' 7″ quietly caused a stir, as their brand of twinky, jangly Emo instantly won people over. With comparisons to Algernon Cadwallader, Snowing and many others, Nai Harvest's sound has an underlying rawness with plenty of passion. 2013 will see the duo record a full length before heading out on an early Summer UK and European tour with You'll Live! (SR)
Facebook
The Winter Passing
If you're a long-time reader of Already Heard, then you'll know who The Winter Passing are, if not let's bring you up to speed. Formed just over a year ago, the Irish band blend Indie Punk guitars with honest Emo lyrics sung by the Brother-Sister combo of Rob and Kate Flynn. The quintet are set for a busy 2013, with a short UK tour alongside South Wales punk's Forrest taking place in January and will be followed up by two releases; a split with Sleeping Weather and another currently titled 'Scrapbook'. We've got incredibly high hopes for The Winter Passing. (SR)
Facebook|Twitter|Bandcamp
Starters
Starters had a reasonably quiet 2012, but after a slight line-up change with Scott Williams taking over vocals and guitar from Ian Fox, they're back in business. 2013 sees the Irish Pop Punk band being far more active, with a split alongside California's Second To Last in the works and their début full length will see the light of day in early summer on City Of Gold Records and Quote Your Pulse Records. (RC)
Facebook|Twitter|Bandcamp
Blink-182
It feels almost an awful long time since Blink-182 reformed at the Grammy Awards in 2009. Since then we've had 'Neighbourhoods' which disappointed some fans who expected a return to the simpler Blink-182 of years gone by. Last year saw the trio become independent when they left Interscope Records and then surprised everyone including themselves with a new EP in the form of 'Dogs Eating Dogs'. It manages to combine the new smoother aesthetic of the Self Titled record with sounds heard on earlier records such as 'Take Off Your pants And Jacket'. It almost seemed like a return to form for the trio, and has certainly raised expectations for what to expect on the as yet untitled seventh album, which we are led to believe is on its way in 2013. (RC)
Official Website|Facebook|Twitter
Comadre
Comadre play a style of screamo-influenced Punk. Although they seemed reasonably quiet since 2009 when they released the brilliant 'A Wolf Ticket'. In 2013 they are set to release a new record which from early reports is said to be the culmination of everything the band have released so far. The band released a limited 7″ last year ('Cold Rain') on Vitriol Records and delighted many of the bands fans. A triumphant return. The self titled record is due to drop January 8th. Be sure to look out for Already Heard's review. (RC)
Official Website|Facebook|Twitter|Bandcamp
Crime In Stereo
When the hugely underrated Long Island band Crime In Stereo got back together last year, many were shocked. The band have stated in interviews that they won't be doing a huge amount of touring, but the UK is one of the places mentioned, so maybe we can expect them on our shores in 2013? Nevertheless we expect the band will also release some new music to follow up their brilliant last effort 'I Was trying To Describe You To Someone'. (RC)
Facebook|Twitter
Daylight
Philadelphia's Daylight have already released four great EP's so far; 'Sinking,' 'Dispirit,' 'The Difference In Good And Bad Dreams' and an acoustic 7″ which should see them in good stead for their first full length due out in 2013 on Run For Cover. If you haven't heard Daylight they play a blend of 90's influenced grungy rock. Whilst no date has been set yet, the band are set to head over to the UK and Europe with Make Do And Mend and Chain Of Flowers in March for a short tour. Be sure to catch them! (RC)
Official Website|Facebook
Self Defense Family
Self Defense Family (formerly known as End Of A Year) have released various split records and 7″s since 2010's 'You Are Beneath Me'. In 2012 the band released 'Self Immolation Family b/w World Virgins,' the second part of their 'Island Series' of recordings. 2013 is set to bring us the band's follow up full length on Deathwish Inc. It will no doubt continue Self Defense Family's witty, interesting take on Punk music. We're sure it will be a stand out release of 2013 for many. (RC)
Official Website|Facebook|Twitter
Esoteric Youth
Manchester based blackened hardcore outfit Esoteric Youth sprung up out of nowhere and have been making all the right impressions. Both pressings of their demo have long since sold out and it looks like 2013 is going to be a huge year for the four piece. Their demo tape mixed ambience, Black Metal-inspired riffs with a Hardcore undertone; they are emerging as one of the city's most prominent acts. With a split tape with Prelude to the Hunt and their first 7" both set for release on Church Of Fuck in early 2013, Esoteric Youth are going to be a band you will be hearing a lot about. (RM)
Facebook|Bandcamp
Swinelord
Fellow Church Of Fuck band Swinelord amazed us with their first release 'I Feel Fucked'. Combining chugging guitar, guttural vocals, and frantic riffs for such a short release it really does leave a good impression. Their live show is nothing short of hilarious; they were certainly the highlight of this years Fuck Fest. With a plan to release their first 7" through Church Of Fuck, it is going to be an exciting release and one for all you lovers of crust and doom. (RM)
Facebook|Bandcamp
Hang The Bastard
Hang The Bastard were set for a colossal 2012, they're new EP was doing the rounds and it was a huge step up from their début album. Unfortunately the departure of their vocalist Chris Barling overshadowed such a brilliant release. However the band picked themselves up, snapped up Mike Carver and have already wowed in 2012 supporting Fear Factory, playing Damnation Festival and a whole host of other shows and tours. 2013 will see them bringing out their new album and their first with Carver. It is going to be a heavy 2013! (RM)
Facebook|Twitter
Bastions
At the back end of 2011 Bastions brought out their début album 'Hospital Corners,' a vicious, heartfelt and powerful release. 2012 saw them touring the album with bands like End Reign, playing at Kerouac's final show and proving that they are one of the hardest working bands. Whilst this has all been going on, they have been in the studio with Jag Jago working on their new release. Their recent shows with Birds In Row allowed them to showcase new material, pieces of work that will surely make them one of the most interesting and thought provoking bands of the year. In 2013 "their story will be told" in the form of 'Bedfellows Part 1: The Bastard Son'. (RM)
Facebook|Twitter|Bandcamp
Turbowolf
Turbowolf's début album was one of the highlights of 2011 and their live performance were no different. Already Heard covered them on their first headline tour back in October and it was an impressive spectacle. The old tracks sounded amazing, the covers from their recent EP blended in well with their originals and the chance to hear new material was a dead cert that Turbowolf will have no problem with notorious "difficult" second album. (RM)
Facebook|Twitter
End Reign
The Durham four piece metallic Hardcore group have been fairly quiet in 2012, which means you should have been getting yourself acquainted with the group before they are set to make an impression in 2013. Again Church Of Fuck Records are involved with these guys and are releasing their discography – 'Suicide Collection', as well as everything they have ever done, expect to hear a couple of new tracks and a live set. The band also stated that recording for their début is over half way, through so fingers crossed we will be hearing new material sometime next year. (RM)
Facebook|Twitter|Bandcamp
As We Sink!
The three piece from Plymouth have been busy touring and playing shows up and down the country promoting 2012's 'Ventures'. With everyone loving the brand of Pop-Punk made famous by the likes of Polar Bear Club, Apologies I Have None, and everybody's favourites Gnarwolves. It is only a matter of time before As We Sink are placed on a similar pedestal. With an acoustic release on I Hate Records in the works, the band have hinted at new full band tracks being recorded. They are one of the best punk bands in the country and deserve your attention in 2013! (RM)
Facebook|Twitter|Bandcamp
Slingshot Dakota
Slingshot Dakota have made consistently great records, and with 'Dark Hearts' dropping in 2012 through Topshelf records, only continue to prove why they're such a loved band. 'Dark Hearts' made some of the team's personal lists for album of the year, and it's an understandable choice. With Carly Comando and Tom Patterson creating a blend of heartwrenching piano-led Punk and honest reflective lyrics, it's destined that 2013 will be their year with this record. With one UK tour already under their belt which recieved nothing but positive feedback, and with another UK tour rumoured for the new year, you'd be crazy to miss the opportunity to see this band. (RK)
Facebook|Twtter|Bandcamp
Adventures
Adventures were another band who made some of our teams top records of 2012. Having released their 4 track Self Titled EP through No Sleep Records, three members of Code Orange Kids made a smart move with this band. Differing from their other musical offering, Adventures offer a cathartic listening experience much less heavy than Code Orange Kids. Reeling in influences from a bunch of 90's emo bands, this EP created an emotional and raw state that wasn't found in many other contributions this year. (RK)
Facebook|Bandcamp
Wade
Wade were formed from the ashes of the ever loved Sunday League and created something bigger and better. Taking influence from bands like Braid, Jawbreaker, and more of the classics, Wade have found themselves on the radar of every UK DIY promoter. With releases planned for 2013, and a whole load of shows and touring, if you're yet to watch these lovely geordies knock you out of the park then you're in for a right treat when you do. (RK)
Facebook
Captain, We're Sinking
Captain, We're Sinking were formed in 2007 but have continually created more and more interesting records with each release. Having recently signed with Run For Cover Records and planning on releasing their second full length in January, we truly believe that this is the year one of our consistently favourite bands will get the recognition they deserve. The title track 'Montreal' from their most recent precursor 7″ to the record has a completely different sound to their previous works and it's this that makes this band interesting and deserving of your attention. Pop punk in the vein of You, Me, and Everyone We Know, Iron Chic, and The Menzingers, they're a must listen for 2013. (RK)
Facebook|Twitter|Bandcamp
Modern Baseball
Modern Baseball were the most surprising late addition to our radars. Having recently released 'Sports', it's been a non-stop spinning record for a lot of our writers. For fans of The Weakerthans and The Front Bottoms, Modern Baseball offer up an intelligently simple look at life. This record has fast become a personal favourite of mine, released on vinyl on Lame-O records, they've been firmly placed in the sight of the UK punk scene and will continue to do so long in to 2013. We can only hope a UK trip is on the cards for the new year. (RK)
Facebook|Bandcamp|Twitter
Rob Lynch
Rob Lynch is one of the UK's most consistently hard-working artist. Having released records under his previous name, Lost On Campus, Rob decided to make the transition to using his own name. This year he made appearances at various UK towns, played The Fest in Gainesville, toured Europe for the first time and whilst in the US, recorded a new full length with Shane Henderson (ex-Valencia.) The album is set for release in 2013 and Rob's infectious brand of pop punk infused with a folksy twinge will continue to reign supreme. With this planned and a slot on Groezrock Festival, next year is looking sky high for our dear friend. (RK)
Facebook|Twitter|Bandcamp
Hearts & Souls
Hearts & Souls have been around the UK Pop Punk circuit for awhile now, but have yet to release anything solid. In January however, we are set to see their first finished release 'The Use Of Living', 7 tracks of their own inspired brand of ambient rock sounds. Featuring AJ Perdomo of The Dangerous Summer, this release has a lot of promise when it comes to an original sounding record, and we believe that people will be surprised with what Hearts & Souls have achieved with this release. Vocalist Lucinda Livingstone recently provided us with an interview which will be available on the site soon for anyone interested to learn more. (RK)
Official Website|Facebook|Twitter
Brontide
One of the UK's best kept secrets is about to be unearthed from the rock even further in 2013. Instrumental three-piece and Holy Roar's finest arsenal Brontide are set to unearth another full length slab of their ambient riff laden math-metal sound on to the world, and based on their performance at Manchester's Carefully Planned Festival in October last year, all eyes will avert to the spectacular god like aura the band have built themselves. If a band like Thrice can offer the support slot to their last UK show in May last year to a band like Brontide, then the possibilities in 2013 are endless for the band. (AL)
Facebook|Twitter|Bandcamp
Deafheaven
'Roads To Judah' was a triumph for Deafheaven, they followed it up with a fantastic split 7″ record with Bosse De Nage which graced many best of lists this year and critical acclaim. In Spring 2013 the band will release 'Sunbather' and it's set to be another thoroughly interesting record, Deafheaven will once again blur the lines between Black Metal, Shoegaze and experimental music, creating beautiful yet bleak soundscapes. The band are also set to return to the UK next year, which will be a great chance to see them live, where they truly excel. (RC)
Official Website|Facebook|Twitter|Bandcamp
Muncie Girls
The Exeter punk rock scene has already given us a wealth of great bands including The Cut Ups and OK Pilot, what a delightful but expected surprise it was when we were sent 2012's 'Revolution Summer' from the charming punk rock trio who are named Muncie Girls. This band produces the finest heart on sleeve anthems, a diamond in a cookie cutter landmine of the god awful; as a diamond they're to be cherished indefinitely for the foreseeable future, starting from now in 2013. With whispers of a début full length in the works, it's probably a bright idea to get on that train and hear it for yourself. (AL)
Facebook|Twitter|Bandcamp
Words by Sean Reid (SR), Aaron Lohan (AL), Tom Knott (TK), Rosie Kerr (RK), Robert Maddison (RM), Ryan Clayton (RC) and Aaron Wilson (AW).