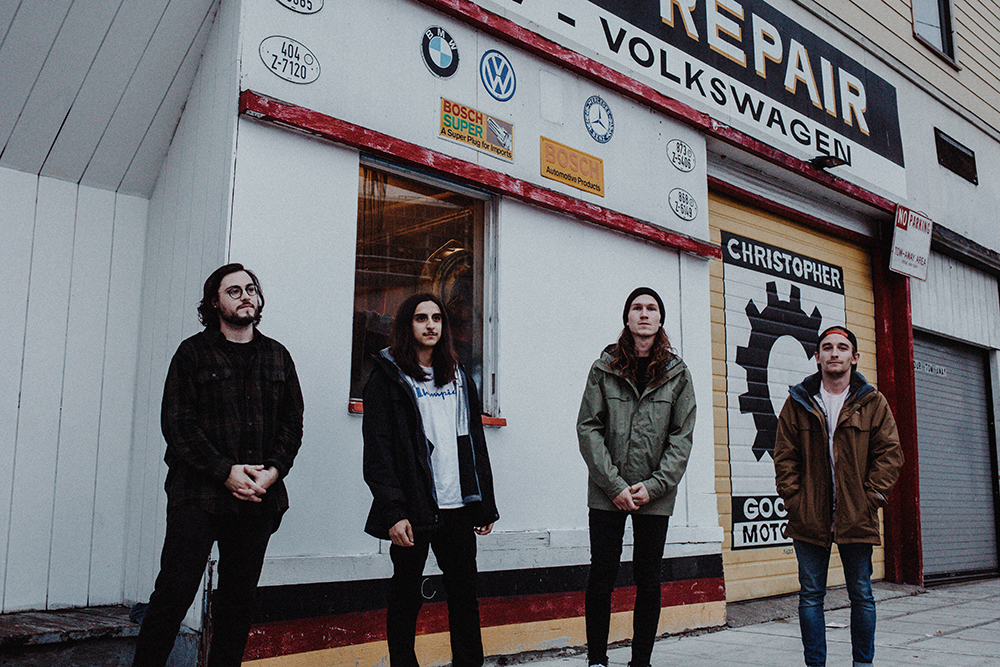 "I think it's a grower and I'm ok with that."
"Whatever you think Homesafe sounds like, we chewed it up and spit it back out," jokes vocalist/bassist Tyler Albertson as we discussed their debut album, 'One,' during their recent visit to the UK as part of the Slam Dunk Festival. "We're taking advantage of the position we're in. Because people already see us out there with a certain sound. We've been told from day one nothing else sounds like Homesafe. We're taking that and running with it."
Joined by vocalist/guitarist Ryan Rumchaks, drummer Emanuel Duran and guitarist Joe Colesby, Homesafe is known by some as Rumchaks' "side project" yet for the Knuckle Puck bassist, it has become a fully fledged band with a handful of independently released EP's gaining plenty of traction, most notably 2016's 'Evermore.'
Formed during their late teenage years, 'One' marks a significant growth for Homesafe. It sees the quartet hone in on the 'rock' side of past releases. "Everything about it is different; the approach, the lyrical content, the musical content," explains Albertson with guitarist Colesby suggesting "it's a bit risky too. Some of these songs, they're not songs you would really expect from Homesafe if you listened to 'Evermore'. We took different roads with these songs. It branches off in a lot of directions."
Undoubtedly, 'One' sees Homesafe aim to widen their scope and diversity, and their recent singles certainly back up that statement. 'Run' thrives on the coattails of Jimmy Eat World's catchy emo-rock. 'Vanilla-Scented Laser Beams' is carried with bold guitar licks and a hint of 90s alt-rock under the surface. Whereas 'Stay Away' is a stripped back, reflective number with soulful vocals. If you dig a little deeper into 'One,' you'll find batches of melodic alt-rock ('Have It All' and 'Get It Right,') adrenaline-fuelled cuts such as 'Say Something' and 'Suits and Ties' alongside lighter, melancholic spots; 'Sideways Sleeper' and 'I Don't Know How'.
"I feel like there are families of three or four songs that have the same kind of sound," says Rumchaks. "There are a few soft songs, a few rocking songs like we usually do and there are some chance-takers like 'Vanilla-Scented Laser Beams.'" Ultimately, the risks they've taken on 'One' has paid off, proving to be an intriguing record that takes repeated listens to fully grasp. It's a sentiment that the Chicago four-piece agree with as Tyler says "you'll like it the more you listen to it. I think it's a grower and I'm ok with that."
In an age where singles and playlists are taken as a priority by some, Homesafe, naturally, want people to listen to 'One' as it's intended. "We don't want people to listen to number 1, 5 and number 12," says Joe. "We want people to have an experience. You want to listen from 1 through to 13 and see how these songs translate into each other."
"We've been told from day one nothing else sounds like Homesafe. We're taking that and running with it."
Understandably, Homesafe give the impression they take their music seriously, yet when it comes to making videos, and from speaking to the band, they're four friends who enjoy being around each other and with a purpose. For both 'Vanilla-Scented Laser Beams' and 'Run,' the quartet worked with Shifty Dimensions (a company Ryan's brother Mike is part of) to create two videos that aren't entirely serious, showing the band's comedic side. For example, 'Vanilla-Scented…' sees Tyler on a mysterious 80s sci-fi hunt with the performance side seeing the quartet dressed in lycra and abducted by aliens.
"Our whole thing is that music video are always so serious. There's a point of comedy in almost all of Homesafe's videos," Joe explains. "We like to portray ourselves in the videos. That's exactly who we are. The entire time you film, we're just messing around constantly." While Ryan discusses the thought process behind their videos. "It's always a serious idea, which is cool, then we go through the motions of filming the video and it turns out to be pretty funny."
Although their visit to the UK was brief, the release of 'One' coincides with a headline run Stateside where they'll be joined Hot Mulligan, Heart Attack Man and Jetty Bones ("Kelc is a superstar" states Tyler.) While their hometown of Chicago is never far from their minds. Name-checking emerging bands such as Belmont, Pat Egan and the Heavy Hearts, Family Reunion, Rare Candy, Lakefront and Safe Bet, the four-piece of proud to come from a city with a rich musical history.
"We're so proud to be coming from the Chicago music scene. There's such a good variety of talented artists. It's a very tight-knit scene," says Albertson with Colesby stating "there's so much stuff brewing in Chicago."
Whether or not Homesafe will become as noteworthy as fellow Chicago bands Fall Out Boy, Rise Against, or Alkaline Trio is yet to be seen. Nevertheless, 'One' is a strong, diverse debut full-length to put them on the right track. Forget what you knew about Homesafe and start from step one.
'One' by Homesafe is out now on Pure Noise Records.
Homesafe links: Website | Facebook | Twitter | Instagram
Words by Sêan Reid (@SeanReid86)
---
If you have enjoyed reading this article and would like to help us produce more content and promote more great new music, please consider donating to our Patreon page.