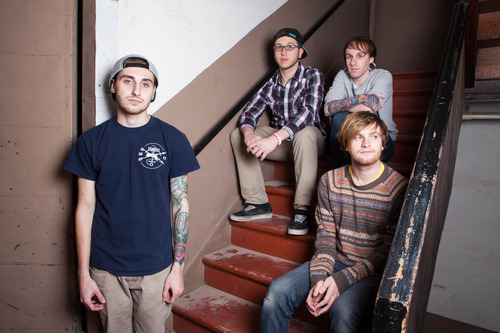 Today's second exclusive comes from US alternative pop-punk band Life On The Sideline. The Granby, Connecticut quartet are set to release their new full-length, 'Honesty Is A Dying Breed' on 22nd April through Take This To Heart Records and today the band are teaming up with Already Heard to premier the track – 'Surround'.
Much like the album itself, 'Surround' is a self-reflective number that is reminiscent of bands such as Transit, The Early November and Brand New.
Vocalist Nick DiCiancia shared these comments about 'Surround':
"When I was in high school I looked up to a group of kids I deemed in my mind as "cool". Something about their cookie cutter group of friends stuck with me as admirable for reasons I am still unaware of. These people I once strived to be like is what 'Surround' is all about.
I think a lot of my idolization was based around the fact that I didn't know who I was. The small amount I did know about myself at the time I hated. 'Honesty Is A Dying Breed' is about being honest with yourself and making the best of who you are. Not who your friends are, not who your parents want you to be, but who you are. You have the freedom to do whatever you want with your life, the only person who will ever prevent you from that is yourself."
For Fans Of: The Early November, Brand New, Transit and Citizen.
'Honesty Is A Dying Breed' by Life On The Sideline is released on 22nd April on Take This To Heart Records.
Life On The Sideline links: Facebook|Twitter|Bandcamp
Want to stream new music or a video or offer a free download exclusively through Already Heard? Get in touch at [email protected].