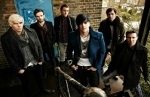 Earlier today former Lostprophets vocalist Ian Watkins was sentenced to 35 years in jail for child sex offences.
According to the BBC, Watkins will spend 29 years of his sentence in jail, with a further six years on licence, and will be eligible for parole after serving two thirds of his prison term.
His two co-defendants, named Woman A and Woman B for legal reasons, were also jailed for 14 and 17 years respectively.
The Judge, Mr Justice Royce labelled the vocalist as a "deeply corrupting influence" and a "dangerous sexual predator". The judge also told the three defendants that their behaviour "plumbs new depths of depravity".
During the prosecution submissions at Cardiff Crown Court, the court was told about a phone call Watkins made to a female friend from Parc Prison after pleading guilty last month. In the phone calls, Watkins said:
"It was, like, either me go up there and say 'Come on, it wasn't that bad, nobody got hurt', I do my charm. Or do I end up making things worse for myself? Or do I just say I was off my head and can't remember?"
"I'm going to put a statement on [December] 18th now just to say it was megalolz, I don't know what everyone is getting so freaked out about."
"I'm not a paedophile, I'm not. You know I plead (sic) guilty just to avoid a trial, not realising 'Hang on, that makes me look a bit guilty' but I would never harm anybody."
The court also heard from Watkins' defence team who stated he was "set up" by fans bombarding him with sexual attention, whilst his drug use meant he was out of control and couldn't remember his actions.
Detective Chief Inspector Peter Doyle, who was the Senior Investigation Officer on the case, has now said that the former Lostprophets singer is being investigated by other police forces around the world including Germany and the United States.
A document containing sentencing remarks from Judge Justice Royce can be viewed here. Already Heard would like to advise readers the contents of the document is graphic and disturbing to read. Please read at your own discretion.
Already Heard would like to send our thoughts out to anyone at all affected by the events surrounding the case and the events it involved. We urge anyone with any further information surrounding this news to contact their local authorities.