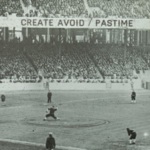 Honestly, I don't think I've heard such a hard hitting EP in a very long time. I knew what kind of bands Pure Noise Records deal with, but I wasn't expecting this! Still, it's an absolute pleasure to be surprised like this!
Opening track 'Left Alone' hits straight in and those mean as hell vocals are prominent from the moment they kick in, delivering aggression as though they were crafted in hell itself. These carry across the whole EP and I can only hope they do so live as well.
The production definitely helps to create that impact and whoever produced this deserves an almighty pat on the back/more money/plenty of free shit from whoever can give it (Props to you, good sir). The guitars are full of dirty riffs, power chords a plenty and the occasional squeal than never feels out of place, but with a subtle hint of melody in the chorus.
'Pastime' is a mere 13 minutes long but delivers an absolute bombardment of menace that will knock you back on every listen. Yeah. EVERY listen. Time and time again, you'll be feeling the onslaught of this band. 
Create Avoid have nailed the head on this one. Several times. Repeatedly and aggressively, actually. Job well done on creating an EP that sets the bar ultimately high for anything they release in the future; there is nothing wrong with this EP.
5/5
'Pastime' by Create Avoid is out on the 22nd May through Pure Noise Records.
Create Avoid links: Facebook|Myspace
Words by Michael Brown.