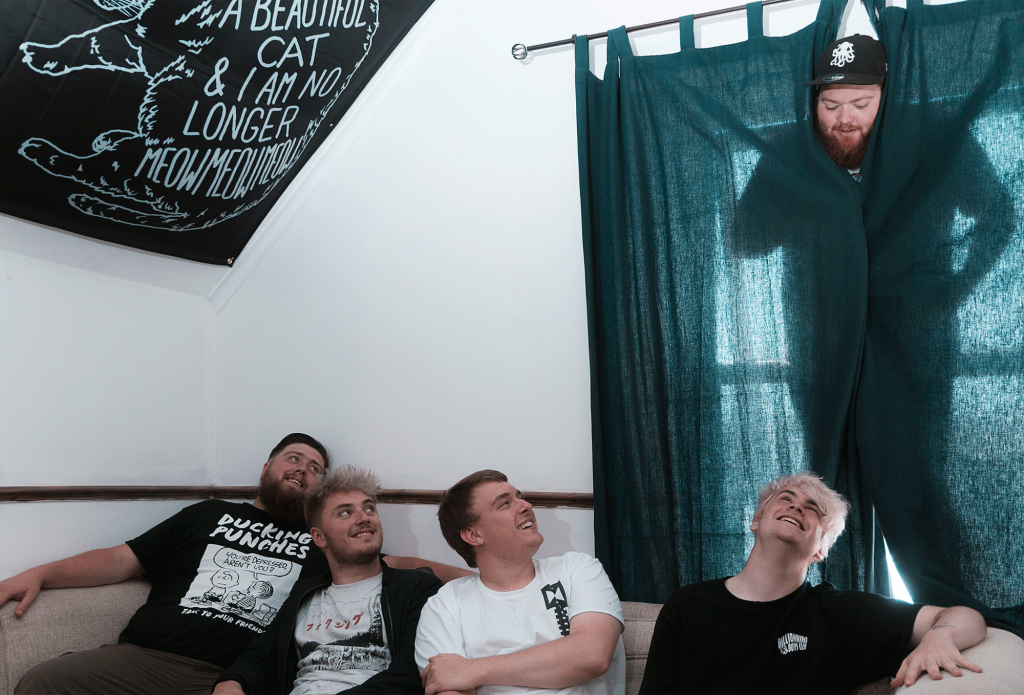 No matter what style or genre of music you play, for many musicians and songwriters, it's about conveying emotion. With their debut EP, 'I Exist', Devon five-piece americansignlanguage explore the raw effect mental health has had on them.
Formed in 2016, the quintet came together with a common goal to provide a platform to
share personal stories and for a better mental wellbeing through music. Having played shows with Defeater, Hotel Books, Hikes, and itoldyouiwouldeatyou over the past 18 months, americansignlanguage now look to make an impact with their thought-provoking, emotionally charged brand of post-hardcore. Recorded with Bob Cooper (Nervus, Muskets, Kamikaze Girls), 'I Exist', channels the spoken word narration reminiscent of La Dispute and Touché Amoré alongside the explosive passion of bands like The Saddest Landscape and Orchid.
Overall, americansignlanguage have produced a captivating EP that is an authentic representation of what struggling with mental health issues is like. Its six tracks capture anxiety, anger, hope and pain by being lyrically compelling and musically powerful.
Ahead of its release this Friday through Beth Shalom Records, we're premiering 'I Exist' in full. While vocalist Adam Hyman gave us a detailed track-by-track insight into what the EP is about.
1. Carte Blanche
This is a song about fighting your own inner demons; standing up and saying "I won't take this any more! I'm better than this!". When I felt my absolute lowest I made the decision that I would no longer let depression control me. Sure, I still have my low days but: "for as long as I live, I will not go back to that place where I will never grow". Carte Blanche means a new page; a fresh start. You hold the key to your happiness, let yourself be free!
FFO: La Dispute, Being As An Ocean, Touché Amore
2. Ellipsis
'Ellipsis' is a conceptual song based on a Vice article from a few years ago. The author tells a harrowing story of the night his partner disassociated and forgot who he was. The article had always intrigued Lloyd and I and we were very keen to write a song on how we imagined the author felt that night. The article was posted anonymously but if this ever reached 'anon' we would love to know his thoughts on our take.
FFO: Orchid
3. Everything That Dies
This is a short track based on spiralling back into a deep depressive state. The almost certain feeling that nothing will ever get better, that you'll always be living here useless and alone. Your brain tells you that you're here forever (don't worry, you won't be).
FFO: Old Gray, Merchant Ships
4. Loose Ends
I grew up with depression but for a long time. I didn't have the ability to identify that's what it was. I was so anxious and scared of how I felt and how others viewed me but I didn't know how to healthily release these feelings. The deadly cocktail of puberty, mental health and the social stigma of "men being men and not crying or having feelings" pushed me into a corner which I had no idea how to get out of. Loved ones saw that I was struggling but didn't know what with, I knew I was struggling too but I was too scared to talk. I thought if I tore the house down and belittled everyone around me, then maybe I'd get locked up and some bloke in a white lab coat would come to do tests and make me better. It didn't work. At one point I had pushed everyone so far away, they couldn't be around me.
'Loose Ends' is a reflection of that time and how I wish I could go back and change how I acted. Then again maybe losing everything and having to rebuild my life and ask family and friends for forgiveness was part of bettering my mental wellbeing? I just hope this track reaches someone that's hitting the same hard time and it helps them take a step back and think. (If that's you… just let someone know, I know its really tough but you will feel so much better after!)
FFO: Pianos Become The Teeth
5. Everything That Grows
The first day of the rest of your life! Everything that has held you back, all the doubts, anxieties and dark thoughts have been expelled! You've realised that there is a world out there and you are ready to face it. You are no longer alone, you are still here with a place to call home! 'Everything That Grows' is about realising your self-worth and realising there is so much love around you! You just gotta go out and get it!
FFO: The World Is A Beautiful Place And I Am No Longer Afraid To Die
6. a cacophony
We basically wanted to leave this record with that inner noise that you hear on the days where you don't feel good enough for this world. We have all been there and its really fucking scary and hard to explain. Maybe it's not the same for you… but if it is, and you can't explain that feeling with words to your mum, dad, sibling, relative, dog, friends, significant other etc, then maybe show them this? Just remember not every day is going to feel like this one! You've got the power to change! Love yourself, love each other.
FFO: The Saddest Landscape
'I Exist' EP by americansignlanguage is released on 31st August on Beth Shalom Records.
americansignlanguage links: Facebook | Twitter | Instagram | Bandcamp
Upcoming shows:
September
1st Burn It Down Festival, Torquay
3rd Heartbreakers, Southampton*
4th Cavern, Exeter*
22nd The Monarch, Camden
*supporting Cassels
---
If you or someone you know is experiencing mental health problems, Already Heard and americansignlanguage recommend reaching out to one of the following: CALM | Papyrus | Mind
You can also contact Samaritans on 116 123 or at [email protected].
---
Do you have a new video or release you'd like to premier on Already Heard? If so contact Sêan Reid to find out more.
---
If you have enjoyed reading this article and would like to help us produce more content and promote more great new music, please consider donating to our Patreon page.