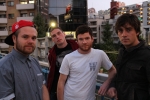 Enter Shikari have treated fans to two new videos.
First they've released a video showing behind the scenes of the making for their latest single, 'The Paddington Frisk.'
In addition the band have posted a video diary of their recent show in Hatfield in aid of ActionAid and Bollocks to Poverty.
Both videos can be viewed by clicking read more.