Next up in our series of Download Festival preview interviews is with Joel Haywood from Silent Screams.
Coventry's Silent Screams are just one of the many rising UK metal bands making their Download Festival debut. Having recently toured with fellow UK bands Bleed From Within and Heart of a Coward, the quintet are ready to make their mark on the Red Bull Studios stage.
Recent single, 'The Way We Were' marks a new beginning for the band with Joel Haywood replacing James Ryan on vocals earlier this year. Nevertheless the bands pummelling drums and frantic riffs are still very much intact, as Silent Screams have produced a perfect slice of melodic hardcore influenced metal.
We briefly spoke with Joel Haywood who told us who he's looking forward to seeing, what we can expect from the bands set and more.
Are you heading to Download? What bands are you excited to see? Let us know on our Facebook page or on Twitter.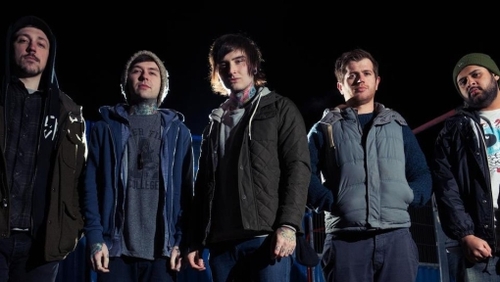 Already Heard: Can you tell us your name and role in the band?
Joel: My name is Joel, I am the lead vocalist.
AH: Why should fans check you out at Download?
Joel: Well some people still may have not been able to come to a show with our current line up and hopefully they will enjoy the new energy and power we bring to every show. This will also give us the opportunity to bring in new fans as well.
AH: What can we expect from your set?
Joel: A destroy-ingly rad show with a load of powerful songs you can mosh, push, party and sing too!
AH: What other bands are you looking forward to seeing?
Joel: So many there is a fantastic amount of new and old bands to see this year! With bands like Slipknot & Iron Maiden headlining to bands like A Day To Remember, Papa Roach, Architects, Parkway Drive. It's gonna be an incredible weekend.
AH: What are your memories of previous Download Festivals?
Joel: Unfortunately for me I could never afford to go to Download growing up, I never really had a great deal of money so I'd always read about it in Kerrang and watch videos, so this will be really special for me to expierience Download for this first time as well as playing for the first time.
AH: Do you have anything else you'd like to say?
Joel: We are playing The Red Bull stage on Saturday at 14.45 – 15.10. I hope anyone that does get the chance to come see us enjoys it and has an amazing weekend at Download. Stay tuned as we have some amazing things coming soon.
Catch Silent Screams at 14:45pm on the Red Bull Studios Stage on Saturday 15th June.
Silent Screams links: Facebook|Twitter|Official Website
Our full coverage of Download Festival 2013 can be found here.
Words by Sean Reid.