As we continue to look forward to this weekends epic Download Festival, we speak to Christina Rotondo from emerging alt-rockers Searching Alaska.
Even though the five piece have only been together for less than a year, Searching Alaska make their Download debut as one of the six winners of the recent Red Bull Studio contest. Expect Big choruses, catchy sing alongs and atmospheric numbers from the South East band.
Vocalist Christina Rotondo briefly spoke to Already Heard as she prepares for the festival.
Are you heading to Download? What bands are you excite d to see? Let us know on our Facebook page or on Twitter.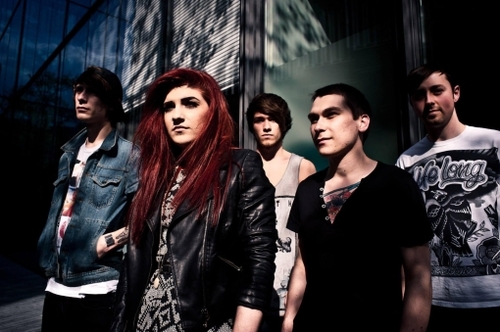 Already Heard: Can you tell us your name and role in the band?
Christina: I'm Christina and I'm the vocalist.
AH: Why should fans check you out at Download?
Christina: We're a pretty unique band who have worked really hard perfecting our live sound. I think if any new people come to watch us, they won't quite expect the interesting mixture of heavy, crazy vocal riffs and clean melodic vocal melodies.
AH: What can we expect from your set?
Christina:A hell of a lot of energy and some exciting new songs. We're constantly writing new stuff but we've got some brand new exclusives that we cant wait to show everyone.
AH: What other bands are you looking forward to seeing?
Christina: There are so many awesome bands at Download Festival! I did scream a little when I saw Jimmy Eat World on the lineup, so definitely them. Architects, A Day To Remember, Papa Roach, Thirty Seconds To Mars, and loads more. Its like my entire childhood in one festival!
AH: What are your memories of previous Download Festivals?
Christina: Personally I've never actually been to Download Festival before – but I'm really excited because I've heard so many great things about it, and this experience is going to be a once in a lifetime opportunity for us.
AH: Do you have anything else you'd like to say?
Christina: I think one of the main things that we cant stress enough is thank you SO much to Red Bull and their Download Competition because without them setting this up in the first place, there is no way that we would be playing Download. Also thank you to every single person that voted and checked us out, because we can't believe how far we've come – we haven't even been together a year yet and to say we are playing Download is absolutely mental.
Catch Searching Alaska at 17:15pm on the Red Bull Studio Stage on Saturday 15th June.
Searching Alaska links: Facebook|Twitter|Youtube|Bandcamp
Our full coverage of Download Festival 2013 can be found here.
Words by Sean Reid.