As our preview coverage of next weekend's Download Festival continues as we catch up with Luke Caley of Press To Meco.
Having scrapped through Red Bull Studios' Battle of the Bands contest; chosen by a panel of music industry judges, the unsigned Coryden rock trio are set to showcase their recent 'Affinity' EP on the Red Bull Studio stage. The EP is filled with intertwining melodies and rocky riffs delivered alongside bleak lyrical themes of mental illness, procrastination and cannibalism.
Guitarist and vocalist Luke Caley spoke to Already Heard to tell us what we can expect from the band at Download.
Are you heading to Download? What bands are you excited to see? Let us know on our Facebook page or on Twitter.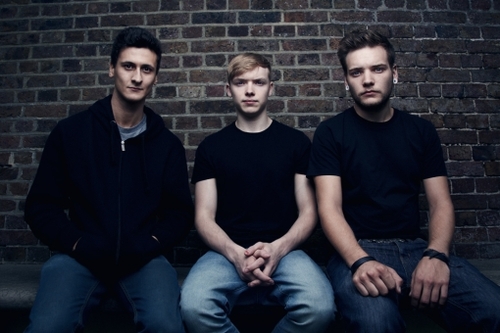 Already Heard: Can you tell us your name and role in the band?
Luke: Hey! My name is Luke, I sing and play guitar in Press to MECO.
AH: Why should fans check you out at Download?
Luke: We've been told our vocal approach is quite unique given the style of music. We'd be over the moon if new people watching us felt it was a fresh sound and something a bit different to what they've heard before. Hopefully people will like it but if not that's cool, we're just stoked on playing there at all.
AH: What can we expect from your set?
Luke: A high energy performance with lots of vocals harmonies and sing along moments. Might be something in there to get people's heads nodding too!
AH: What other bands are you looking forward to seeing?
Luke: So excited to see SlipKnot! We're all big Jimmy Eat World fans but unfortunately our stage times clash. Queens Of The Stone Age of course. Iron maiden for the spectacle. I've been really getting into the last Karnivool album lately. Our boys in the Algorithm are gonna smash it, so they'll be well worth watching. We've got some other mates bands there too, like Page 44 & Mordecai so we'll definitely be checking them out.
AH: What are your memories of previous Download Festivals?
Luke: This is actually myself & Lewis' (Williams – drummer) first ever time at Download! But Adam (Roffey – bassist) has some stories like getting hit in the head by a flying 2 litre bottle of water or finding an abandoned mattress, then turning round to see the girl who owned it faceplant in the mud as she ran after him to get it back. They're not really great stories but they're the only ones I remember right now. I'm sure if you ask us the same question two weeks from now we'll have some funny tales to tell.
AH: Do you have anything else you'd like to say?
Luke: Thank you to you guys for wanting to interview us. Shout out to Invictus PR & our manager Graham. OF COURSE a massive thank you to Red Bull Studios (London) for giving us the opportunity to play Download … And thanks for anyone who's just read this interview.
Catch Press To Meco at 18:05pm on the Red Bull Studio stage on Saturday 15th June.
'Affinity' EP by Press to Meco is available now.
Press To Meco links: Website|Facebook|Twitter
Our full coverage of Download Festival 2013 can be found here.
Words by Sean Reid.