With their "controversial" grime-metal sound, Hacktivist have been gathering momentum in recent months following shows with Enter Shikari, Crossfaith and Limp Bizkit. With a blend of grime rapping, heavy riffs, hip-hop beats and electronic elements, the Milton Keynes group promise to deliver an energetic and memorable set this weekend on Pepsi Max stage.
We caught up with bassist Josh Gurner to discuss the bands set, who he wants to see and past Download experiences.
Are you heading to Download? What bands are you excite d to see? Let us know on our Facebook page or on Twitter.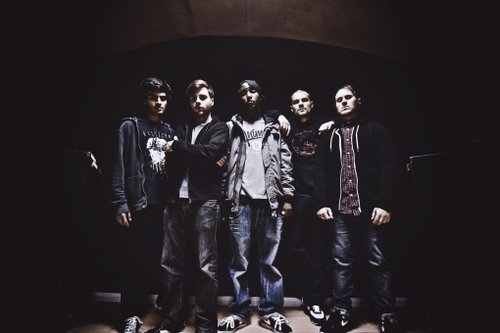 Already Heard: Can you tell us your name and role in the band?
Josh: Josh, and I'm the bass player.
AH: Why should fans check you out at Download?
Josh: We have a pretty controversial sound and find that people will listen to our tracks or watch our videos and either really love it, or really hate it; but you need to get yourself down to see the live show to fully appreciate it. We get a lot of converts at our shows and we're hoping to gain lots of new fans at Download.
AH: What can we expect from your set?
Josh: It's rowdy music you can get drunk and bounce to. We put on a high energy live show, playing music like no other band at the moment.
AH: What other bands are you looking forward to seeing?
Josh: Deftones, Enter Shikari, Karnivool, Limp Bizkit and Slipknot.
AH: What are your memories of previous Download Festivals?
Josh: I've been going to Download pretty regularly over the past 8 years and every year brings new amazing memories, but one of my favourites would be seeing Deftones and Rage Against The Machine back in 2009.
AH: Do you have anything else you'd like to say?
Josh: Thank you to anybody that has taken the time to check us out. We're gigging our arses off at the minute and trying to get a full length album written so keep your eyes peeled for tour dates and new releases – visit www.hacktivist.uk.com for updates.
Catch Hacktivist at 14:45pm on the Pepsi Max Stage on Sunday 16th June.
Hacktivist links: Facebook|Twitter|Official Website
Our full coverage of Download Festival 2013 can be found here.
Words by Sean Reid.