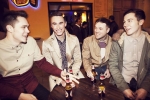 Don Broco are set to re-release their single 'Hold On' via Search And Destroy on June 24th.
In additional news the band will be recording new music soon with a release rumoured to take place shortly after.
The video for 'Hold On' can be viewed after the read more jump.