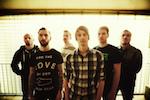 The latest acts for the Camden Rocks Festival has been announced with the likes of Devil Sold His Soul, Fearless Vampire Killers, A Plastic Rose, Zoax and Mixhell.
Other names announced today are Johnny Borrell and Zazou, Toseland, Little Barrie, Rubylux, Empress, Longy, Money For Rope, Vuvuvultures, Under The Influence, Flagship, The Carnabys, Tax The Heat, The Ratells, The RPM's, Audio Whores, Adam French, Shooting Suns and Remote View.
Camden Rocks Festival takes place on May 31st and sees 200 bands playing in twenty different venues for just £25.
Further information can be found at camdenrocksfestival.com.
View the full line-up by clicking read more.