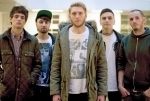 Details of the forthcoming split from Departures and Moose Blood have been announced.
The split will be released on November 12th through Fist In The Air and No Sleep Records.
Departures have premiered one track from the split called 'A Song For The Sunset', which can be streamed by clicking read more.
UK pre-orders for the split can be made through Fist In The Air Records, who have also released the second pressing of Moose Blood's 'Moving Home' EP.