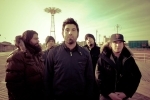 The latest additions for Sonisphere 2014 have been announced with Deftones, Frank Turner, Reel Big Fish, Protest The Hero, Alestorm, Truckfighters, Kerbdog, Only Crime, Blitz Kids, Itch, Max Raptor and Hounds joining the bill for the summer rock and metal festival.
Sonisphere 2014 takes place at Knebworth House on 4th – 6th July.
Click read more to view the latest flyer.