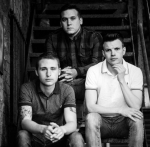 Colt 45 have revealed their debut album will be titled 'The Tide Is Turning' and is set to be released in May through Visible Noise.
The band made the following comment about the record:
"'The Tide is Turning' offers a pretty good insight into our collective mind-set just now – both musically and in terms of our ambition for the future.
The last few years have been a hard slog of gigging all over the UK and self-releasing EP's to build our profile and reputation, whilst holding down full time jobs and juggling the rest of our lives to make COLT 45 our priority. We're now lucky to enjoy the support of Visible Noise and this has enabled us to enter 2014 with a fantastic opportunity to really make our mark. That's what we want to do with this album; we believe in the new songs and feel as though a change is on the horizon – one that will hopefully enable us to take COLT 45 to new heights. That's why 'The Tide is Turning' stood out as THE lyric from the album which really sums up the mood in camp just now….we can't wait to get started and for you everyone to hear it!"
The album is currently being recorded and the trio are working with producer Romesh Dodangoda.
Colt 45 will follow up the recording of the album with a UK tour next month alongside Electric River and The Hostiles.
March
01 London – The Garage w/ Electric River
07 Gateshead – Black Bull w/ Electric River
08 Carlisle – Sands Centre w/ Electric River
11 Glasgow – Bar Bloc w/ The Hostiles
15 Lancaster – Yorkshire House
21 Lancaster – Yorkshire House w/ The Hostiles
22 London – New Cross Inn w/ The Hostiles
23 Manchester – Gullivers w/ The Hostiles
April
10 Kendal – Bootleggers
18 Bolton – Alma Rooms
24 Consett – Club That Rocks